Ryan's Story
"Children's hospices are not just about end of life care. It's so much more, and we know that now, because we have accessed so many different aspects of support. It is invaluable. Ryan loves going to Naomi House to meet other boys in a similar situation to him." Abbi, Ryan's mum


15 year old Ryan from Southampton lives with his parents, Abbi and Tony and his siblings, Luca (9), Thea (5) and Cody (3). At the age of three, he was diagnosed with Duchenne Muscular Dystrophy (DMD), a genetic condition which gradually causes the muscles to weaken, leading to an increasing level of disability. It is one of the most common and severe forms of muscular dystrophy usually affecting boys in early childhood. There is currently no cure, but there are various treatments that can help manage many of the symptoms.
Ryan's mum, Abbi, told us:
"We started to realise that something wasn't quite right when Ryan was around four months old, and other babies were rolling over and he wasn't. When he got to a year and he wasn't crawling or showing any signs of sitting up, the health visitor referred him to paediatrics. After various tests, they were eventually able to diagnose him with Duchenne Muscular Dystrophy.
"Up until he was about 9 or 10, although Ryan struggled with running and jumping, he was pretty much your average child of that age. He had been using a manual wheelchair for long distances by the time he started school at 4½. Every year, he would find life harder; there were a lot more falls and he was in more and more discomfort with a lot of aches, especially in his lower back and legs. He isn't very vocal about his discomfort, so he would suffer in silence.
"I think that may have impacted on his anger issues, not that he was acting up or misbehaving, but he was in pain, and he didn't really know what to do or how to vocalise it. When he was around 12, he had a fall and after that he did try to walk, but he had some fractures in his lower back and the bones had collapsed, so from then he has been in a wheelchair. He can get up to transfer to his bed, but he can't walk anymore. He is seen by many consultants at the hospital as his condition affects his heart, lungs and his digestive system. He also has osteopenia, which is the stage before osteoporosis, meaning his bone density is lower than average. This results in him being at risk from fractures - even knocking his foot can result in a fracture. He has six monthly IV medication to strengthen his bones.
"Through social media and contact with other families, we heard about Naomi House. I had thought that children's hospices were all about end of life and that they are places where people go to die; but I now know that they are so much more than that.
"Ryan goes to a group at Naomi House every half term for boys with Duchenne. They play games and do mindful activities which he likes, because he doesn't get the opportunity to do things like that at home. The family support team makes sure everyone is included, and plan crafts and activities that they can all do. He is with people in various stages of the disease, but they are all of a similar age and interest and a lot are in power chairs like Ryan. At Christmas, they all go bowling as a group. It's nice for him just to have that time with people who are like him.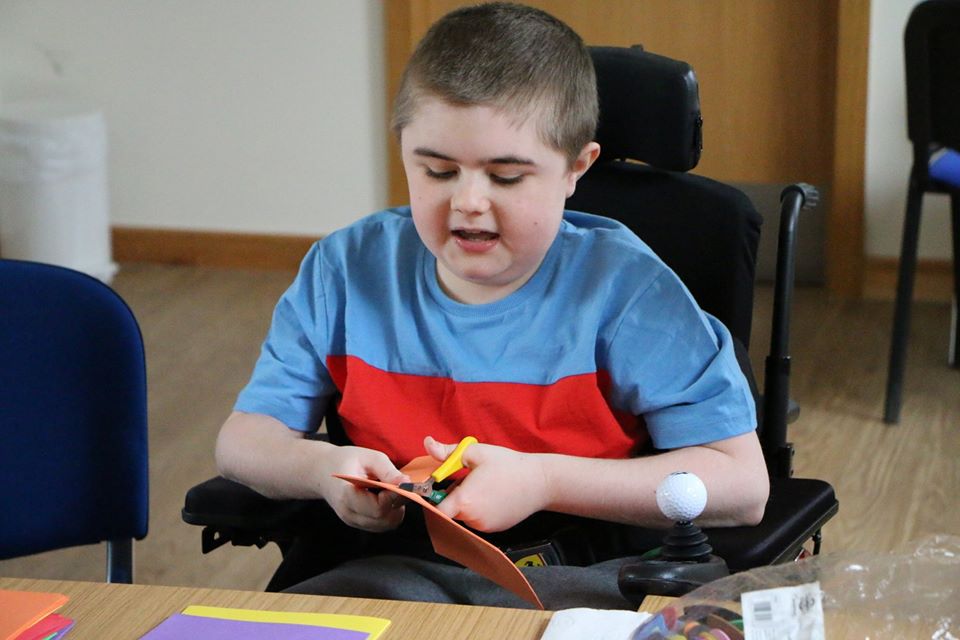 "Ryan has loved cars for as long as I can remember, he's collected hundreds of toy cars, like Hot Wheels, over the years. His knowledge of different cars is extensive; he can catch the smallest glimpse of a car and know exactly what make and model it is. Of course, he's an avid player of car based computer games.
"Ryan's other true love is pug dogs! I don't know when this began, just one day he announced pugs were his favourite. Sadly, we don't have a real one, but he has a bedroom jam-packed with cuddly ones! He's yet to meet a real one - something else I'll have to work on. Even though he has interests at home, it can be quite isolating for him, because where there are so many of us, we struggle to get out as a family, so it's great that he has the group at Naomi House to look forward to.
"Jenny is the Support Worker in the family support team and is brilliant. She has done play therapy with Ryan, as he has struggled with his anger and frustration because of his body changing and not being able to walk anymore. She has got such a calming presence and the boys feel relaxed around her. It really does help. Ryan is a lot better at managing his anger now.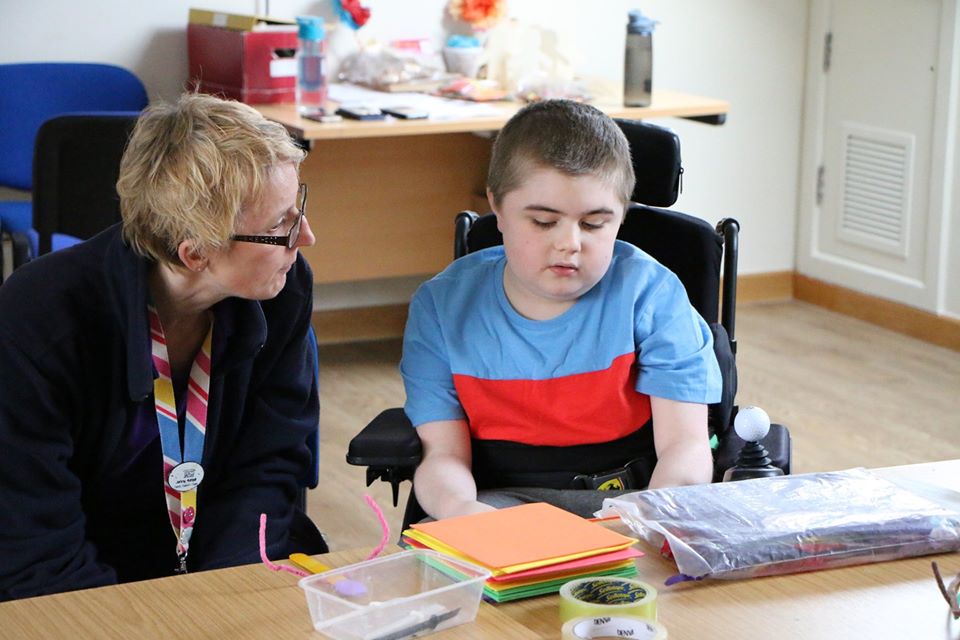 "The support from Naomi House isn't just for the affected child, it's for the whole family, and Luca and Thea have both been to the siblings' groups. They've been to Christmas parties, which they absolutely love and Luca has been to the siblings' camping trip. We have struggled to get out as a family and struggled to get away on holiday, so it's something nice for them to look forward to. They make friends within the group when they are there and the staff are so good, they get everyone to join in so no one feels feel left out.
Ryan told us:
"I like Naomi House because it's fun. I liked it when we went swimming. Jenny helped me lots with my stress stuff and I like going bowling at Christmas".
In these times of lockdown due to the Coronavirus pandemic, it has been very challenging for the families who use our services. We asked Abbi how the family have managed:
"Ryan's condition affects his heart, his lungs and his bones and he is monitored frequently with visits to see the consultants. But with the lockdown and the family having to be shielded, we can't see anyone, so his appointments are telephone or video calls. His mobility is dependent on him seeing his physio regularly and if he can't do that, it could affect his ability to do things like going to the bathroom and transferring to his bed. He is also not able to have his twice weekly sessions in the hydrotherapy pool at school. At the moment he is fine, but I don't know what the impact will be in the long term. He has a yearly echocardiogram and ECG, but he can't even have those, and we are unsure when things will start easing back in.
"I try not to dwell on it too much because getting myself upset, stressed and worried, is going to make it worse, so it's just a case of getting my head down and getting on with it. There's no alternative. What chance do they have if you give up?!
"Naomi House has been here for us during this pandemic and they are so supportive and wonderful. Even though the hospice is temporarily closed for planned respite and Ryan can't meet up with his Duchenne group face to face, he was so excited when they arranged a Zoom meeting for the boys to meet virtually. He really enjoyed it and is looking forward to the next one!"