Lesley's Story

Lesley, Kevin and their children, Jamie, Sophie, Scott and Ryan Cuell were one of the very first families welcomed to Naomi House when it opened in 1997. Theirs is a devastating story where not only did they find out that their little daughter, Sophie, had the rare genetic condition, Tay-Sachs disease, but that their two younger sons, Scott and Ryan, had it too.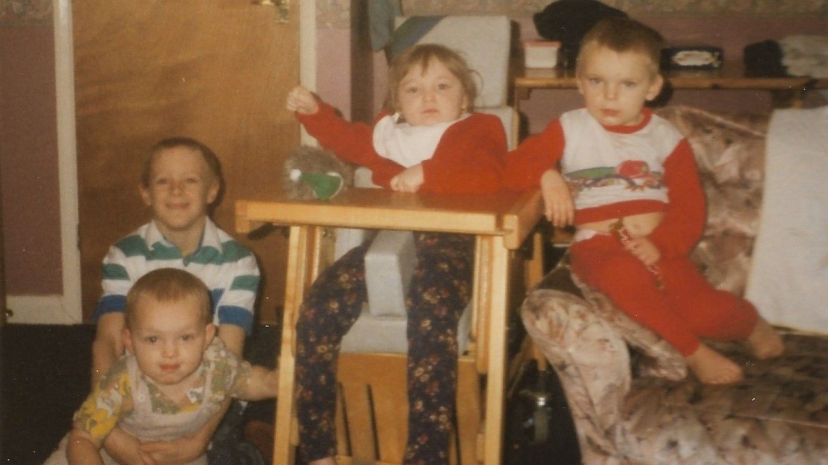 Tay-Sachs is a neurodegenerative disorder which affects the central nervous system. There is no cure and typically a child will only live to between three and five years old.

Lesley told us:

"Sophie wasn't walking or talking by the age of two and a half and if she sat down she would fall over because she had no balance. The health visitor told me to see my GP who referred us to the hospital where we all undertook tests to find out what was wrong.

"Our consultant's secretary phoned up and said he wanted to come and see us. I became hysterical because consultants don't normally come and see you at home, so I knew it was bad news. I was so upset that I was ready to run. The consultant told us that Sophie, Scottie and Ryan all had Tay-Sachs disease. It was such a terrible shock.

"Our doctor, Peter Lee, told us about Naomi House being built locally in Sutton Scotney. I didn't know what it was going to be like. I thought it might be a sad place and I didn't want to take the children at first, but we did and it was the best thing we could have done, it was a happy and lovely place to be.
"Sophie was very bubbly, and all the children had a great sense of humour. Sophie didn't get to walk properly, but the boys did and would run in through the front door of Naomi House, along the hallway and into the lounge. Sophie did more of the sensory play because she wasn't able to do very much. Scottie and Ryan would run around and play on the bikes in the garden. Eventually they deteriorated and they became more disabled and needed total care too. Jamie, their older brother, was always included in the activities and was often in the kitchen with Tracey the chef.
"Sophie was very pale on Christmas Day 1997 and then on Boxing Day she became very limp and we knew she wasn't well. Kevin carried her upstairs, laid her down and she passed away. She was just six years and 13 days old.
"Peter Lee and the head of care from Naomi House, Joan Anderson, arrived. Peter carefully transported Sophie from our home to Naomi House in his car. Everyone was so helpful and, because it was Christmas time, Sophie rested in the hospice's bereavement suite, Butterfly, for about three weeks, until her funeral.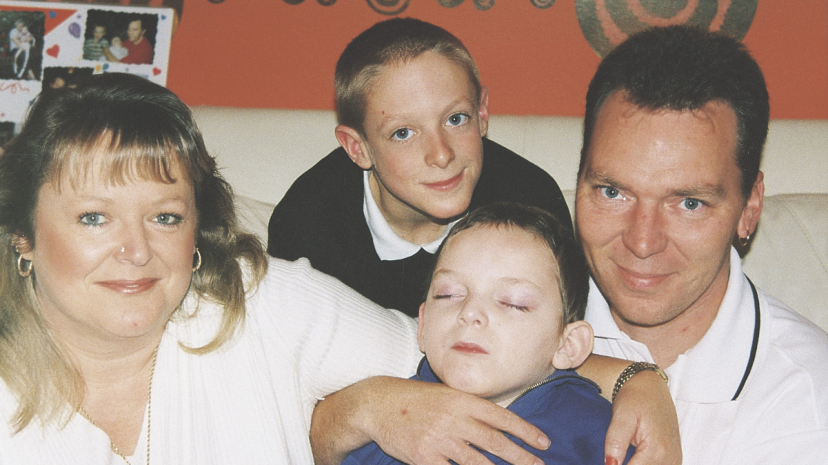 "When it came to the boys, Scottie died first aged seven. He had chest infections all the time and antibiotics just didn't work for him. We were staying at Naomi House with him when he died. We were all asleep in the double bed and Kevin and I woke up to find that he had passed away. Ryan died from a chest infection when he was eight years old.
Having the Butterfly room at Naomi House made a huge difference; it is such a special place and brings comfort to so many people. I was always frightened of an undertaker's, but being able to go into the Butterfly room and sit there for a while, and then return into the adjacent sitting room was so much nicer. Family and friends were able to visit around the clock, day or night.
"We had Jake while Ryan was still alive and then later Rhys was born. I think had Jake not been there then we may have gone downhill because we then had to stay strong for him. Rhys spent six months in hospital at the beginning because he has a heart condition. He may need to use Naomi House & Jacksplace in the future but for now he is well. Having Naomi House relieves the immense pressure because as well as visiting for respite, we can call at any time if we need support."
Lesley and Kevin with Maddie, their longstanding friend. They met when Sophie was in Winchester hospital where Maddie was working as a paediatric nurse and then later at Naomi House.

Maddie told us:

"We were assigned families in those days. The Cuells were my family and we developed a strong relationship. On that first weekend in June 1997, the Cuells were one of three families who stayed at Naomi House. Lesley brought Sophie in and the boys ran off into the lounge with their dad, Kevin, to find the toys. Lesley looked at me and said 'she'll be all right, you are here'. I would regularly drop by to see the family at home. In between times, if Lesley was feeling low, she would call me at the hospice for a chat and if necessary, I would do an extra home visit. It has been an honour and privilege to care for the Cuell family through good days, difficult days and last days."
Lesley told us:

"Maddie kept us all together as a family and she is the same now as she was then, always helpful and just a lovely, lovely person and a great nurse!

"Prince Charles came to Naomi House in April 1998. We didn't know we were going to meet him, Maddie kept that secret until about 10 minutes before! He was very kind and knew all about Tay-Sachs. All the noise of the cameras was phenomenal. He then went around the rest of the hospice and met Scott
and Jamie who were in the swimming pool."
"Our world was shattered and our hearts broken into a million pieces on hearing the outcome for our children but we had to carry on, it would have been easy to give in and give up. Even today it's very hard to smile and laugh when your heart is still broken. I don't cope very well on special days and birthdays, I find them really difficult but I have my rock, Kevin, and the boys
who keep us both going.
We coped then and we cope today because of the wonderful support that Naomi House has given us all. I truly believe we wouldn't be where we are today without the help of Naomi House.
"To other families I would say, you think the worst at first, but Naomi House is not what people expect. With all the support that comes with it, accept it because it is going to help you keep your lives together."