Aiden's Story
Imagine the joy at the birth of your beautiful baby and the belief that he will grow into a strong and healthy little boy. Imagine the most painful event that a parent can experience; to lose a child.
Karen and Zeb already had their first son, three year old Reece, and had all the confidence of second time parents. Aiden was a healthy and happy baby and thrived in his first few months, but it was all about to change.
Karen told us:
"When Aiden was around six months old, he had started getting tiny little pin prick bruises on his thighs. He was eating and drinking well and was a very happy, healthy little boy, but after going to hospital for tests we were told that it was leukaemia. It was all a bit of a shock."
Aiden was in and out of Southampton hospital over the next few months, undergoing chemotherapy. "There were times when Aiden was really poorly and we wondered if he could come through it all. But as the months went on and he got towards the end of his treatment, he seemed quite well and we started allowing ourselves the hope that we were getting somewhere. He was still having intensive chemotherapy and he was still a long way from clear, but the treatment was doing its job holding it at bay."
Aiden spent his first birthday on 1st December, in hospital, having a lumbar puncture and bone marrow aspiration. "The next day, the doctor told us that the leukaemia had come back and because he was already on the strongest dose of chemotherapy, there was nothing more they could do. It was hard to believe this when he had been well. We had to decide whether to continue with the chemotherapy in hospital or take Aiden home for palliative care - the end result would be the same. We made the decision that we would rather take him home and we could try and have a sort of normal life with him, and he could die at home.
"He was happier and healthier than he had been in a long time because he wasn't having all the drugs pumped through his body. For a while he was almost back to normal. We had days out and did lots of things with the family.
"A nurse from the hospital told us about Naomi House. Neither of us had any experience of a hospice, so we had preconceived images in our heads which were nothing like it was in reality. You think of a hospice as somewhere you go to die, you have this image of it being a sad place, a horrible place, and it's nothing like that. We had brought Aiden home from hospital to get him away from everything, to try and have fun times and make memories, we just thought it wasn't going to be the place to do that. Once we got there we realised that it's not the image that we had at all. We loved the hydrotherapy pool and used to go over there as a family. Aiden couldn't go into a public swimming pool because of his lines and because of how poorly he was. He loved it there and it was a chance for Reece and Aiden to be in the pool together."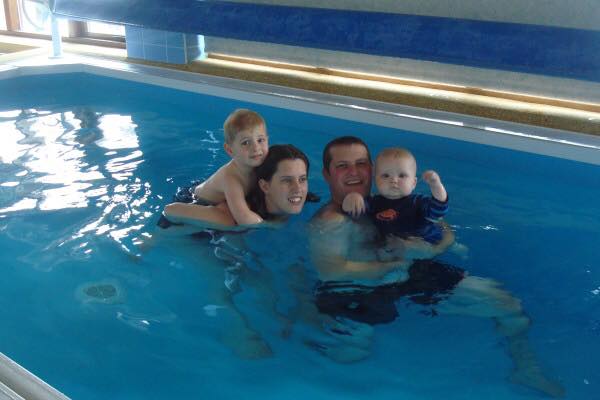 The family were able to enjoy Christmas and family birthdays together but as time went on, Aiden just got sleepier and would sleep more often than he was awake.
Aiden died peacefully on 24th January 2010 at home with his family at the age of just 13 months."We had all been together as Reece had sat holding him in one of the baby sleeping bags and he was feeling for Aiden's toes. They had a nice time, just the two of them together, and then while Reece was at the park with his uncle, Aiden passed away."
Aiden was taken to the Butterfly bereavement suite in Naomi House. "They had put a cot and toys in the room and we took in his special bear. We stayed in the parents' rooms and it was nice to be away from home. We still had all Aiden's medication, toys and clothes at home, so being away from all of that was better for us. Our family could still come and see us when they wanted to, so it didn't feel like we were leaving them behind.
"It felt like you were being looked after. I had never planned a funeral before and I didn't have a clue about what we needed to do. The Naomi House team were amazing, it was like having a safety net of people helping you. Things like having our meals cooked for us and not having to worry about cooking and shopping, which we weren't in the mood for. It was like being at home but somebody else doing all the day to day stuff that you don't want to worry about. It was ideal for Reece, because during that week we were there he was playing constantly and having great fun. He loved it and was oblivious to everything else that was going on. He was sleeping in the room with us, which he thought was great and like being on holiday."
The family support team were on hand to help make practical arrangements and to help the family make special memories. "All the support we had was so good. We had Aiden's fingerprints put on a bracelet and a cast done of his hand and his foot and now we have all those things to remember him by. The team are doing this all the time with the families, they know how much joy they will bring afterwards.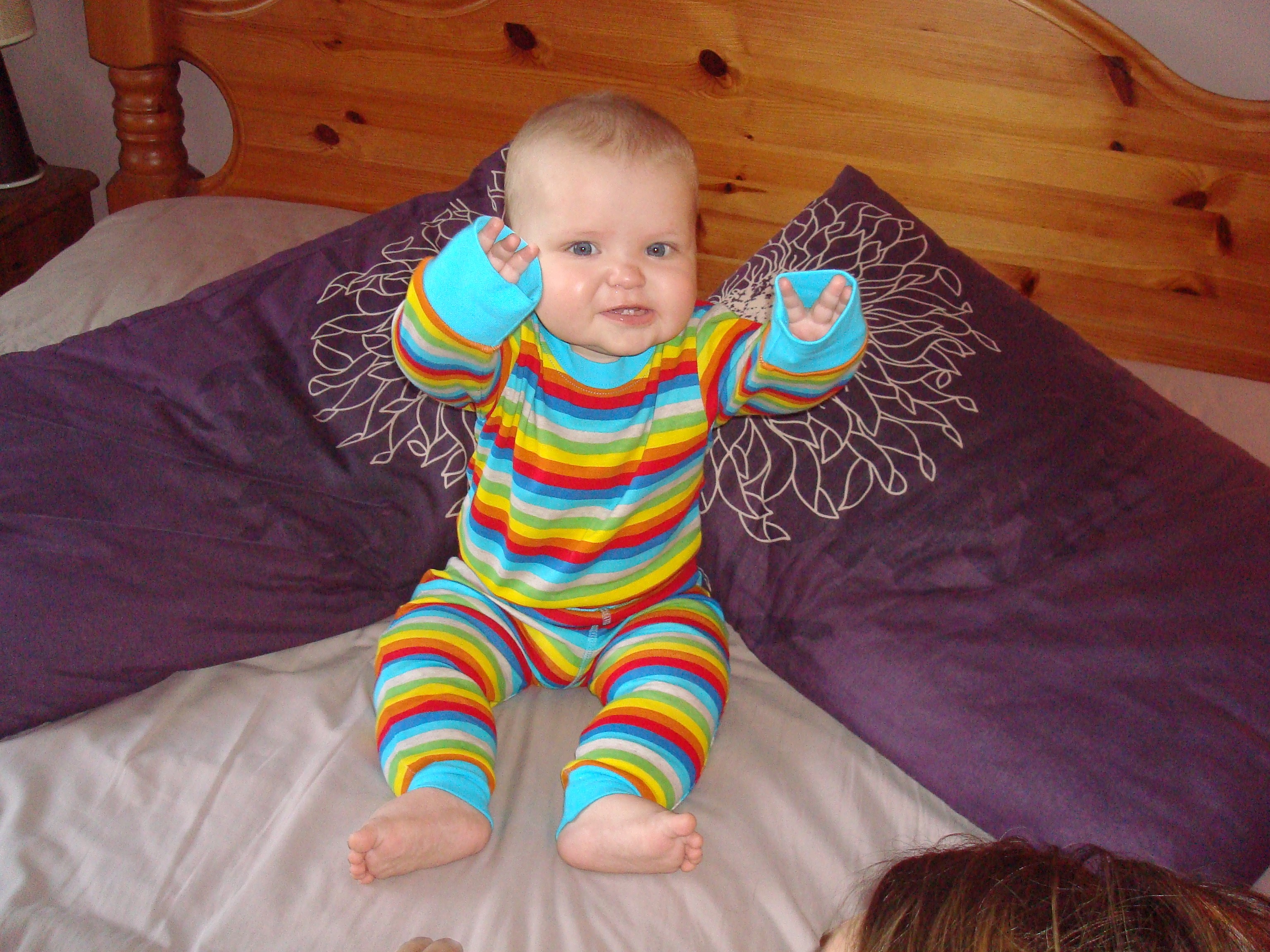 We dressed Aiden in his stripy pyjamas, which were bright and colourful and cheerful very much like he was. We also put him in his sleeping bag, so when he was in the Butterfly room it was like he was asleep.
"We chose to have stories playing so that the room wasn't so quiet and it felt like he had company when we were away from him. We spent a lot of time with him and loved the fact that we could be with him day or night. It was such a difficult time and the emotions would hit us frequently and this flexibility of being able to visit him and talk to him and hold him as often as we wanted and whenever we wanted was invaluable. If he had been in a traditional chapel of rest we wouldn't have had this opportunity.
"The Butterfly room had an attached lounge, which enabled family to be with us and the vicar and funeral director to visit us and make the arrangements in private, but with Aiden still close."
Karen and Zeb now also have a daughter, Erin, and she and Reece love going to the sibling days held at the hospice. "Erin says she misses Aiden, but I think it's the fact that she is missing out on something that she wasn't a part of, because she didn't know Aiden. She missed out on that part of our family life and it's her way of expressing it.
"It would have been a completely different experience if we hadn't had Naomi House. They just gave us the support we needed when we needed it. It would have been harder to face everybody and everything at home. It gave us that break that we needed to get our own heads round everything."