It's our little sanctuary. That's how we feel about Naomi House. Somewhere we can go and feel totally comfortable and, for a short while, have an almost normal life.
16 year old Amelia has a neurological disorder, caused by a genetic mutation of the HCN1 gene. As a result, she has epilepsy, severe learning disabilities, movement disorder, sensory processing issues, an increased risk of SUDEP (Sudden Unexpected Death in Epilepsy) and she is non-verbal. Because of her complex needs, she has to have 24 hour care.
Mum, Lisa, said:
"Amelia was six weeks old when she had her first seizure and was then in and out of Great Ormond Street, Southampton and Poole hospitals for the next few months having tests. During the first year of her life, we stayed in hospital for 100 nights in total. We weren't thinking about anything happening in the outside world, we lived in a bubble. It was such an emotional roller coaster and our lives were put on hold.
"Our paediatric community nurse referred us to Naomi House when Amelia was about two and a half."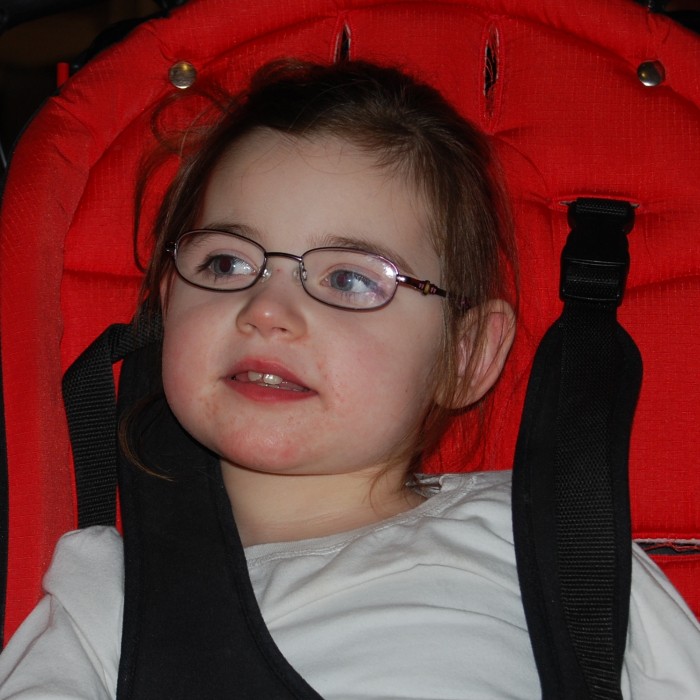 In the last few years, Amelia's seizures have reduced significantly, following her going on to the Ketogenic Diet, a medically liaised, high-fat, adequate-protein, low-carbohydrate diet that in medicine, is used mainly to treat hard-to-control epilepsy in children.
Dad, Lee, said:
"Although her seizures have reduced, the worry and anxiety never ceases to exist. Amelia is at risk of SUDEP, Sudden Unexpected Death in Epilepsy, so the worry is always there. Sometimes, it feels like a ticking time bomb, and as parents, we always have to be alert, 24/7, in case something happens.
"Naomi House is our one constant support - they are always there for us and have been since Amelia was 2 years old, which brings me peace of mind and confidence, that we've got that when we need it."
When we first visited we thought, 'Oh wow, this looks amazing'.
Lisa continued: "It's our little sanctuary - that's how we feel about Naomi House. It is somewhere we can go and feel totally comfortable and have an almost normal life."
"When Amelia is there I know that she is totally looked after and that everything is centred around her. I can check in throughout the day and night to find out how she is.
"Amelia enjoys all the activities at Naomi House but particularly loves water and going in the hydrotherapy pool. She really loves music and I remember I was able to sit in on one of the sessions with the musician in the sensory room. Amelia has autistic behaviours causing her to have a lot of movement, but she was actually calm when he was playing the guitar. She normally puts her hands in her mouth, but she put her hands down and watched him.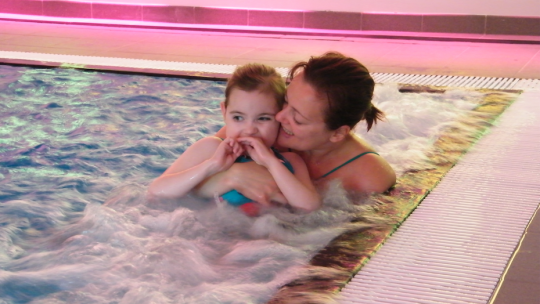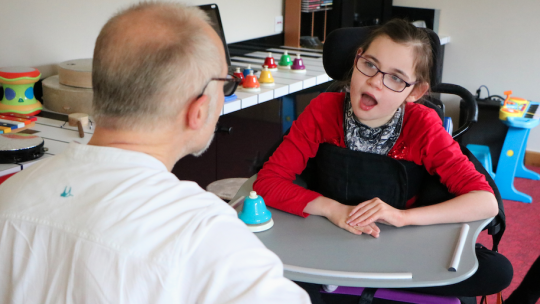 "Amelia also loves the delicious food at Naomi House and going out in the gardens - she loves trees and the Naomi House gardens are full of them!
"Amelia has behavioural insomnia and wakes throughout the night so I never get a full night's sleep. When I come to Naomi House, it will take me at least one night before I can sleep through and break the habit of waking up. It's so nice just to get up in the morning like other people do, and have a shower after my breakfast. Normally I have to wait until a carer arrives.
"We definitely treat Naomi House as a holiday. I can't leave Amelia alone for a minute when we're on our own, so when we go to Naomi House, it's great to be able to have some 'me time'. I can come and have some quality time with Amelia, but I can also step away from things if I want to take a break. It's a holiday for me as much as it is for Amelia and it's nice to speak to other families who are in similar situations.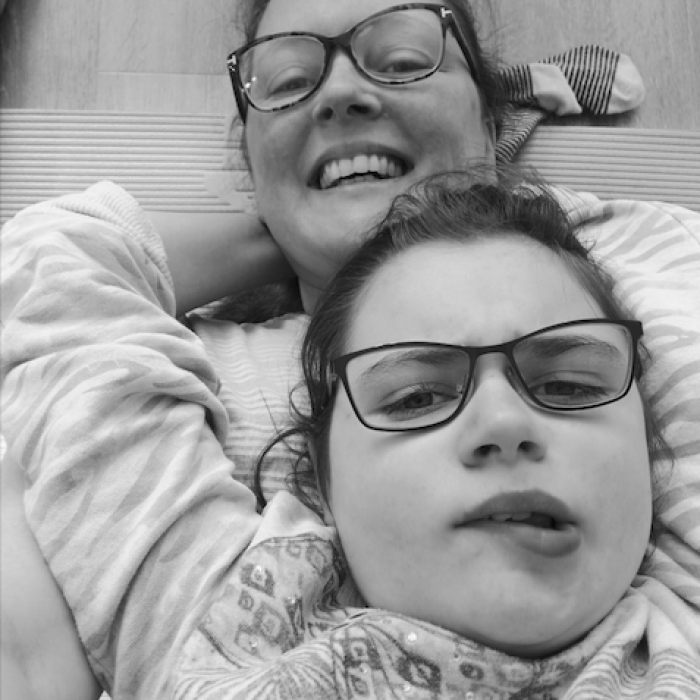 "I also enjoy having other family members visit the hospices during our stay. They can spend quality time with Amelia there and we can go out and spend quality time together alone, safe in the knowledge Amelia is being taken care of.
"When spending time with Amelia at Naomi House, I love taking her swimming, as we can't do it anywhere else. I also love taking her on the accessible bikes - it's just so easy. With the help of the care team, we can just quickly pop outside and have a little ride around the garden before dinner, which we can't do at home."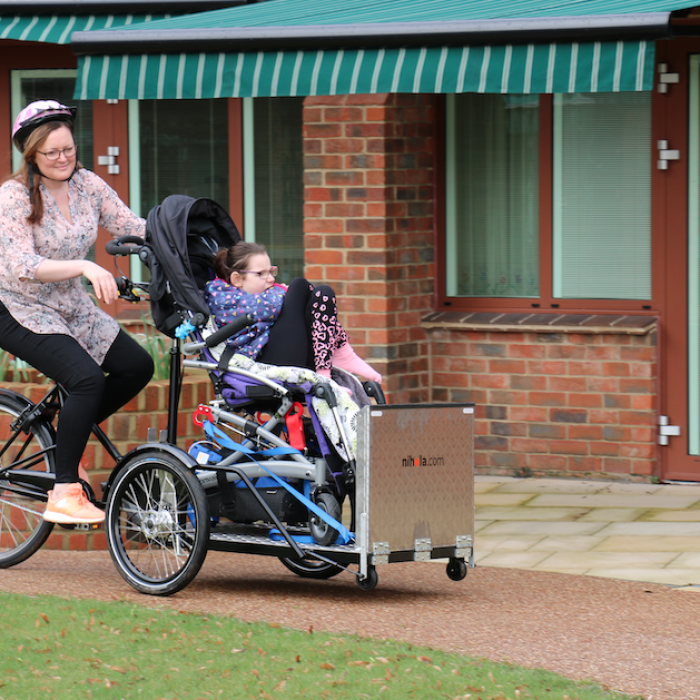 Lee said:
"My best memory with Amelia at Naomi House is also swimming with her in the hydrotherapy pool. It was the first time I'd ever been in a pool with her. We also had some great times in the Naomi House gardens - Amelia loves the swing!
"One thing that Naomi House also does is not forget siblings. Amelia's stepsister, Lily, has benefitted from their sibling groups, which is really great. I think that's a part of the hospice that deserves a lot of praise - Naomi House doesn't forget that children like Amelia have brothers and sisters that go through a lot as well, and so they provide support for them too. The sibling days are a little treat for Lily and they're a good opportunity for her to socialise with other children of a similar age, in a similar situation."
Lisa said:
"When we first started coming to Naomi House it gave us the chance to travel away from Dorset. I always have to make sure we are close to a paediatric hospital and Naomi House was the first place I ever went, where I could get out of the county and do something fun with Amelia. I never ever went any more than five or ten miles away from Poole hospital right at the beginning and I didn't feel confident enough to go anywhere. But when Amelia goes to Naomi House, we know they have the expertise to deal with her and they know how to look after her if she has a seizure.
"We don't know what the future holds for Amelia. Any seizure is potentially life-threatening but we've been trained to deal with them at home so haven't had to call an ambulance too often. We still carry oxygen and emergency medicines all the time in case she does stop breathing or has a prolonged seizure.
"As she progresses into adulthood over the next few years, it will be an uncertain time for our family - we've had all of these services since she was 2 years old and now they're going to start changing. Which is why it's a comfort to know Jacksplace is there.

I'm eternally grateful to everyone at Naomi House for the support we've had and will have in the future.
Lockdown experience blogs
Read Lee and Lisa's heartfelt blogs about their lockdown experience.