Ethan's Story

At the age of just 14 months, little Ethan was diagnosed with a brain tumour. He spent the next nine months in hospital, and many of those in intensive care.


Ethan was the King of the household, and, like any little boy, loved toys, phones and Mr Tumble on repeat. This is his story.

Dad, Andy, said:
"As Ethan has two older siblings, we knew what milestones he should have been hitting, and when he wasn't reaching them, we knew something was wrong. When he was nine months old, his mummy, Gemma, took him to the GP and was very persistent with them and we eventually got referred to Southampton General Hospital. They ran some tests and sent him for an MRI scan. I didn't think they would find anything, it's not something you imagine your child ever having.
"It was late in the evening when the doctor came round and asked to speak to us, and it was at that point I realised it was serious. They showed us Ethan's scan on their laptop, explained where the tumour was and what the next steps were. That was just the beginning of his journey.
"Ethan underwent numerous operations during those months, from emergency abdominal surgery, to lengthy brain surgery, all just to get him over the first hurdle; a hurdle which the doctors later told us they didn't think he would clear. After his operations, his little lungs struggled to cope unaided so the decision was made to give him a tracheostomy which, along with his feeding tube, cerebral shunt and PICC line, all became part of him and his amazing character.
"January 2015 arrived and with that so did the chemotherapy. 12 weeks on and an MRI scan showed the tumour had shrunk slightly to the amazement of the doctors, who had expected it to remain the same, if not grow a little. Ethan continued to make good progress, and with care available at home, he was finally able to leave hospital.
"We all adapted to life at home; giving him regular medication and sticking to a strict feeding plan. His brother, Harry, and sister, Leah, adored being able to play with him somewhere other than a hospital bed and he was soon King of the household; demanding toys, phones and Mr Tumble on repeat. Who were we to refuse?
"Life threw a few more obstacles in our way. A change of chemotherapy led to a constant build-up of fluid in his abdomen which needed draining regularly - at one point they removed three litres!
"After his latest dose of chemo, Ethan developed a raised temperature, which isn't uncommon while on the treatment, so on the 13th November he was admitted to hospital for antibiotics. Four days later he suffered a cardiac arrest while in hospital, and it took 20 minutes for him to respond to CPR. Ethan returned to intensive care and was placed on a lung oscillator. Between the 17th and 26th he had regular physio and daily x-rays to look for signs of improvement, but there were none. In the early hours of the 27th we were asked to step outside while they moved Ethan for physio and were warned he may arrest again. He did.
"We were called back in to see him and it was at that point his brave mummy told the doctors and nurses to step back and stop CPR. Little Ethan had put up an incredible fight, but it was just too much for him, and he passed away aged two and a half."


"After Ethan's passing, we were transferred to Naomi House, a place where we had been offered respite care but were never able to visit. A bed had been set up for Ethan in the Butterfly suite, with a Thomas the Tank Engine bed cover, just like a little boy's bedroom. We even put some of his teddies with him to make it more like his own bed. Friends and family were able to come and say goodbye to Ethan. Outside the Butterfly bedroom was a sitting room area and a private garden where you could gather your thoughts and try to get your head around what happened.
"We were given a few books to help us explain Ethan's passing to his brother and sister, Harry and Leah, who had only just turned four and five a couple of months earlier. One that stood out was 'Water Bugs and Dragonflies'.
"The staff were amazing and kept Harry and Leah occupied with activities and games and gave us advice on how to explain it all to them."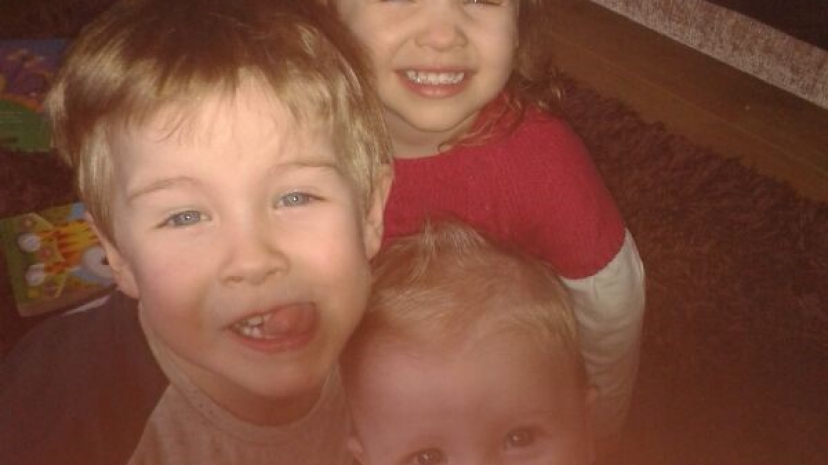 "While we were there we were assisted with arranging Ethan's funeral, something that I wouldn't really know where to begin with. We had books with poems and quotes in, some of which we included in Ethan's order of service. Naomi House organised the funeral directors, printers for the order of service and the church for us and their chaplain, Andy, took the service on the day.
"We have returned to Naomi House for the remembrance days and to place his stone in the memory garden. Naomi House is a place that I will always be in debt to for everything they do."
Help us support families like Ethan's on good days, difficult days and last day by leaving us a donation today. Thank you.