Team Naomi's 13,000ft jump raises over £10,000!
19 brave supporters recently faced their fears by completing a 13,000ft skydive to raise more than £10,000 for us on 18th August! Among the jumpers were Naomi House families, fundraisers that work at the hospices and corporate supporters, each with a different motivation to jump.
Naomi House mum, Vickey Lewis (pictured below with Ollie), was jumping for her son, Ollie, who regularly stays at Naomi House for respite. He was born with Alternating Hemiplegia of Childhood, meaning any muscle in his body can become paralysed at any time, including his heart and his lungs. After safely landing back on solid ground, Vickey said:
"It was petrifying! I'm glad I did it, because I did it for Ollie and for everyone else who uses Naomi House… but never again! My kids think I'm amazing and Ollie just thinks its hysterical watching me fall out of a plane! It was a truly incredible experience."

Trina, another Naomi House & Jacksplace mum, and her son, Max, also took on the jump, in memory of Sam, Max's brother and Trina's other son. Sam and his family were supported by us during his life, and when he passed away.
Andy Jackson, IT Manager at Naomi House & Jacksplace, also chose to throw himself out of a plane to support the charity, alongside his wife, Caroline. This is what he had to say about the experience:
"I was absolutely terrified but, before I knew it, we were out of the plane and falling! I opened my eyes as we fell between the clouds and the view was incredible. I've never had an experience quite like a freefall; it was a completely surreal, unique feeling. I absolutely loved it. The whole experience felt like it was over in a matter of seconds! If you've always wanted to do a skydive, you owe it to yourself to sign up – you won't regret it! I'm itching to give it another shot!"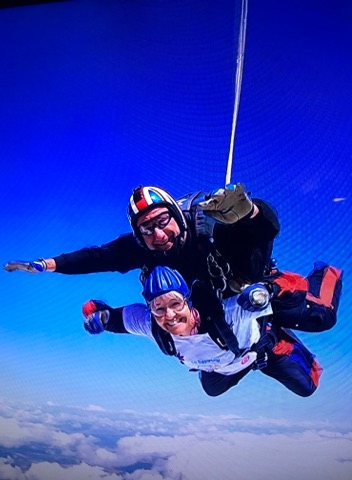 Lynn Wright (pictured above), who works for Freestyle IT, decided to take part in the skydive as part of her company's fundraising initiative for Naomi House & Jacksplace, alongside her colleague, Paige Bryne. She commented:
"It was incredible! I couldn't quite get my head around how I could throw myself out of a plane (strapped to a very nice, calm and professional instructor) but it was amazing! The set up at Netheravon is fabulous; all the staff were wonderful and very pro charity fundraising."

The team of fundraisers visited the Army Parachute Association in Netheravon, Wiltshire to receive their training for the skydive. They then each boarded a lightweight aircraft, safely attached to a qualified skydive instructor, ready to begin their ascent to 13,000ft. After a 20 minute plane journey over the Wiltshire countryside, they freefell at 120mph for up to a minute! The accompanying instructor then deployed the parachute at 5000ft, leaving them with a 5 minute canopy ride back down to the landing area.
The money raised from this event is enough to fund 10 social outings for the young adults at Jacksplace, which are designed to help them develop their socialisation skills and make new friends. It could also pay for more than two months' worth of vital nursing care for a seriously ill child or young adult.
The next charity skydive for Naomi House & Jacksplace is scheduled to take place on Sunday 16th August 2020. To sign up to take the leap for seriously ill children and young adults in our care, or to find out more, visit: www.naomihouse.org.uk/skydive.