London Marathon 2018
This year, Naomi House & Jacksplace was fortunate enough to have 16 participants run the London Marathon, and today we catch up with one of them, Ross Ferguson, who crossed the finish line in a fantastic 4 hours 49 minutes.
Each year, a team of employees and volunteers from Naomi House make the journey up to London to cheer, whoop and applaud our athletes along the route. We set up camp on Tower Bridge at the 12.5 mile mark to try and catch each runner as they zoomed past.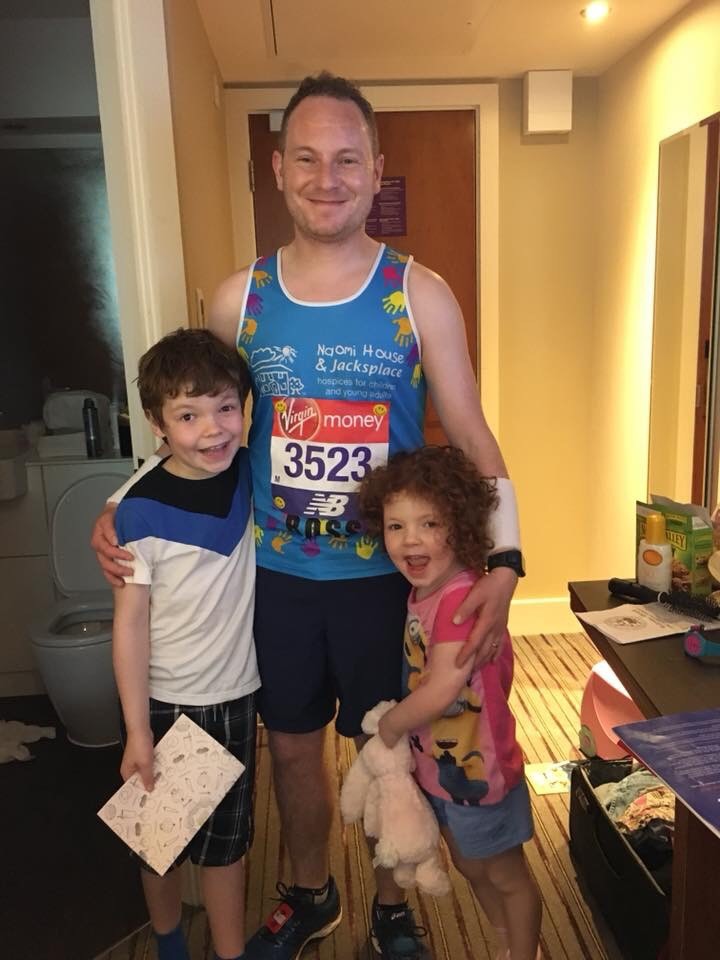 Ross, pictured above with his extremely proud children, had this to say:
Having run some half marathons in aid of Naomi House & taken part in their Santa Fun Runs, I was delighted to be given the opportunity to run my first full marathon in London. Naomi House are such a wonderful local cause & it didn't cross my mind to raise money for anyone else in doing the run. Months of training & fundraising led to a day I'll never forget. I'll forever be filled with pride when I think back to the moment I crossed the finish line & the £1,600 I raised for Naomi House in doing so.
Ross raised a staggering £1600 for Naomi House and Jacksplace, that when added to the collective pot fundraised by all 16 runners totalled at £20,450. This money could help fund our full service for 2 whole days, which is just incredible. We would like to take this opportunity again to thank Ross, and the rest of our runners, and express our appreciation for the continued support and excellent effort you made fundraising.
Sporting events are a huge part of our fundraising effort. They not only raise a tonne of money for the hospices but they are also great fun. Please take a look at our Events page and get involved!