HMS Prince of Wales offer us a Bond of Friendship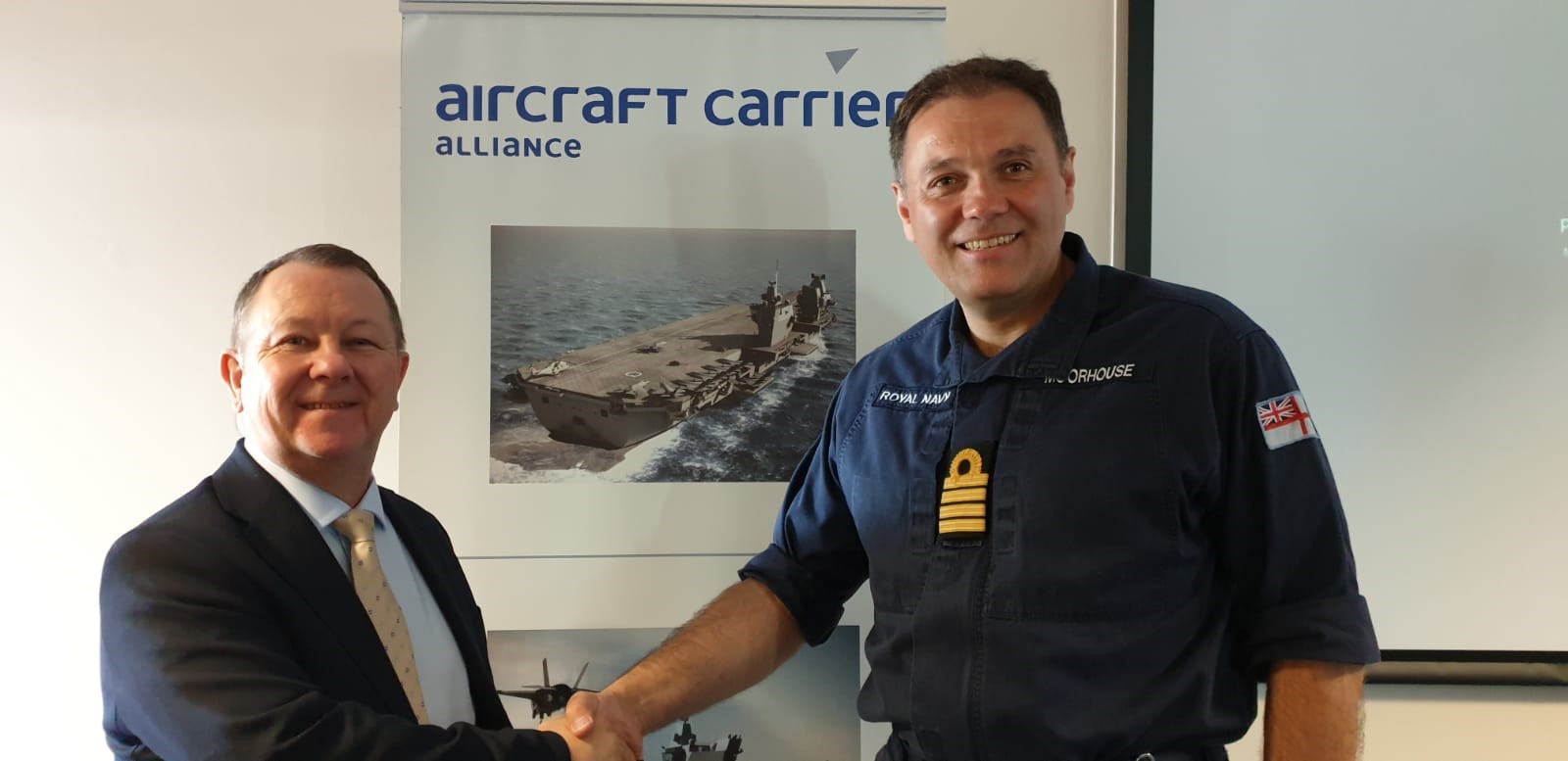 The newest of the Royal Navy's Queen Elizabeth-class aircraft carriers, HMS Prince of Wales, will support us for the life of the ship, which could be upwards of 50 years!
The Ship's Company of the 65,000 tonne vessel have affirmed a Bond of Friendship with us, meaning current and future ship's companies have committed to supporting us. The Senior Rates of HMS Prince of Wales have already provided significant support to us and even popped in for a tour.
HMS Prince of Wales is expected to remain in service for up to 50 years and will be home to some 1,600 crew members. With the ship nearing the end of its build phase in Rosyth, it is expected she will take to sea later this year before making her home at HM Naval Base Portsmouth.
Mark Smith, our CEO and Paul Morgan, our Director of Fundraising at Naomi House & Jacksplace have visited HMS Prince of Wales at various stages of her construction and addressed the ship's Warrant Officers' and Senior Rates' Mess.
Mark Smith, said:
"Our Bond of Friendship with HMS Prince of Wales has been the talk of the hospices since we first found out about this very special partnership. Naomi House & Jacksplace has enjoyed the support of HMS Collingwood, HMS Sultan and the Royal Navy's long-serving flagship, HMS Ark Royal. We know the passion and tenacity with which the men and women of HMS Prince of Wales will approach their charitable activities and thank them for their support."

Commodore Stephen Moorhouse, HMS Prince of Wales' first seagoing commanding officer, said:
"When she enters service, HMS Prince of Wales will play a pivotal role in supporting the UK's diplomatic, security and economic interests around the globe. Our Bond of Friendship with Naomi House & Jacksplace will serve as a permanent link to our home in Portsmouth and the UK. I look forward to working with my crew and representatives of this excellent charity to ensure this ship makes a real and lasting difference to the lives of seriously ill children, young adults and their families across Southern England."

We offer care and support to a number of military and naval families which makes this Bond of Friendship even more special.
HMS Prince of Wales is 280 metres long and capable of embarking 36 F-35B and four Crowsnest AEW helicopters. She will have a minimum crew complement of 700, increasing to around 1,600 with aircraft onboard.
We are honoured to be chosen as one of their charities and are looking forward to a very long friendship indeed.