Supporters from across the south take part in The 2.6 Challenge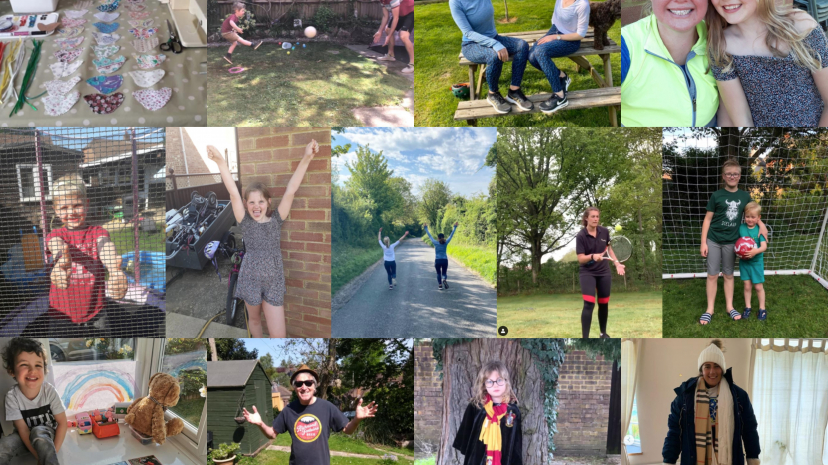 The 2.6 Challenge began on Sunday 26th April, the day that was meant to host the phenomenal London Marathon. With the current Coronavirus pandemic, the event had to be cancelled, so in its place, supporters from across the country came together to support their local charities in The 2.6 Challenge.
With all events relating to the numbers 2.6 or 26, we have been amazed, delighted, astonished, bowled over and inspired by so many wonderful people taking part in some amazing and imaginative challenges to raise money for Naomi House & Jacksplace.
Here is a selection of the activities that have been taking place:
Birch Associates are completing 26 challenges across 26 days starting on Sunday 26th April! Challenges include cycling, planking, running in fancy dress, tennis ball hits, skipping, swimming, walking, badminton, boxing, egg tossing, throwing and catching, burpees, pogo stick jumps and many more!
All instructors and members from Ladies Bootcamp UK took part in a live workout challenge on Zoom, including 26 Exercises of 26 reps each, followed by 2.6 mile walk/run, all while wearing NHS themed clothing!

Team Ellie Mae gathered 26 of their family and friends (of all ages) who all took on different tasks for The 2.6 Challenge, including running, walking, dancing, jumping, bouncing, planking, cycling, singing, knitting, sewing, drawing, blowing bubbles, doing puzzles, quick changing into 26 different fancy dress outfits and more!

Naomi House volunteers, Debbie and Bob, walked 2.6 miles and then planted green beans with 26 bean sticks!

Naomi House & Jacksplace's Marketing Executive, Lynda Barrow, got back on her bike after an accident last year where she injured her knee. She completed 26 miles in one week, and was determined to complete the challenge before Sunday 3rd May, the anniversary of her accident.

Head of Supporter Services, Pete Abrahams, was supposed to take part in the London Marathon for Naomi House. Instead, he ran the 26.2 miles over three days on the same weekend, at his target pace for the marathon!

Fundraising Assistant, Connor, alongside his friends, Luke and Myles, completed 2,600 press ups in 2.6 hours on 26th April!
John and Jen from VfH Choir cycled 52 miles (two marathon) on a static exercise bike!

David Fawcett of Civil Engineering company, Amey, skipped for a full 26 minutes!

Oliver Gray walked 2.6k around and around his garden (33 laps!)

A local family baked 26 sausage rolls!

Employees from BNP Paribas all completed different challenges on Sunday 26th, including star jumps, walking, boxing, running and more!

Employees from Elliotts Builders Merchant, of whom Naomi House & Jacksplace is the charity of the year, completed different challenges, including 26 sets of 26 skips, a 26-mile bike ride and more!

Trusts and Foundations Fundraiser, Emily Gandy, alongside her mother in law, Jane, have taken on the challenge of completing 2.6 mile runs every day for 26 days, starting on 26th April, which is a total of 2.6 marathons!
The Llewellyn Family took on different challenges; Kate ran 6.2km, Ian cycled 26 miles, daughter, Amy cycled 2.6 miles and son, Sam bounced on the trampoline 260 times without stopping!

Martin Dawson, organiser of the Whitchurch 10k race, completed a 2.6mile bike ride, a 2.6km run up and down the garden path (108 times!) and had a 260-minute bath afterwards!

Mary Joy completed 26 minutes of a Joe Wicks exercise routine, as well as arm exercises, tummy crunches and peddling on her exercise bike! Her husband, Alan, kept record of her exercises and she asked her friends and family to donate 26p, £2.60 or £26!

The Smiths used their daily exercise to run/jog/walk the 26 miles of the London Marathon between them!

Amy Kane (aged 6) and Katherine Kane (aged 4) wanted to support Naomi House & Jacksplace as that's where their auntie works! So they decided to complete 26 different activities 26 times!

The three children from the Anderson family took on a challenge each for Naomi House & Jacksplace, including baking 26 flapjacks, jogging for 26 minutes, and being silent for 2.6 hours!
We have had our work cut out trying to keep up with the number of challenges supporters have set themselves, which is a wonderful problem to have! We want to say a HUGE THANK YOU to each and every one of you! The money you have raised and are continuing to raise is vital for the future of Naomi House & Jacksplace, who care for some of the most medically vulnerable children and young adults in the south of England. In these difficult times, we have been hit hard and our fundraising has taken a huge hit. Your 2.6 Challenge support is making a huge difference, so thank you very much!