Family takes on Frozen 5k in memory of very special girl
A family of four has completed a sponsored 5k fun run dressed as characters from the Disney film, Frozen, to raise money for Naomi House & Jacksplace, in memory of a very special little girl called Zoe.
Zoe had Diffuse Intrinsic Pontine Glioma, a highly aggressive and difficult to treat brain tumour. She spent some time with her family at Naomi House for respite and at the end of her life. On 27th May 2020, Zoe would have turned 9 years old, so to mark the occasion, friends of her family, Maria and Joe, along with their sons, Fabi and Romi, decided to take Zoe's love of Disney and create a fundraiser in her memory, by running 5k around Southampton Common dressed as Frozen characters.
We spoke to Maria about their fancy dress challenge:
"Zoe was a very special girl to our family; the daughter of our friends and a friend to our eldest son, Fabian. Zoe spent her last days at Naomi House last year before passing away. We were all very touched by the support and care of the staff of Naomi House. It was the most difficult time for Zoe's family and they really appreciated what Naomi House did for Zoe.
"We wanted to pay tribute to Zoe on her birthday and organise an event in her memory. Zoe had her last birthday at Naomi House and the hospice organised a birthday party for her featuring Disney princesses. Zoe loved princesses and loved dressing up, so Joe, the boys and I decided to dress up as characters from Frozen, including Elsa (me), Anna (Joe), Kristoff (Fabi) and Olaf (Romi) and do a sponsored 5K run around Southampton Common.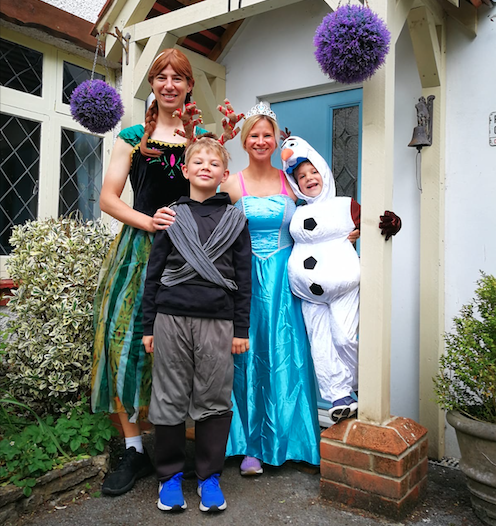 "In the current context of Covid-19, we ran just as a family, but we are hoping to start a tradition and make this run an annual event where more people can join, in the hope that it can help Zoe's memory live on.
"Zoe spent her last days at Naomi House where she was cared for by an incredible team of people who made her last days as comfortable as possible and provided invaluable support to her family at a most tragic time. Naomi House does this every day for terminally ill children and their dedication, kindness, love and compassion make an enormous difference.
"There's been so much support, excitement and encouragement from family and friends - Zoe was indeed a very special girl who touched many hearts. Also, Naomi House is known very well by the community.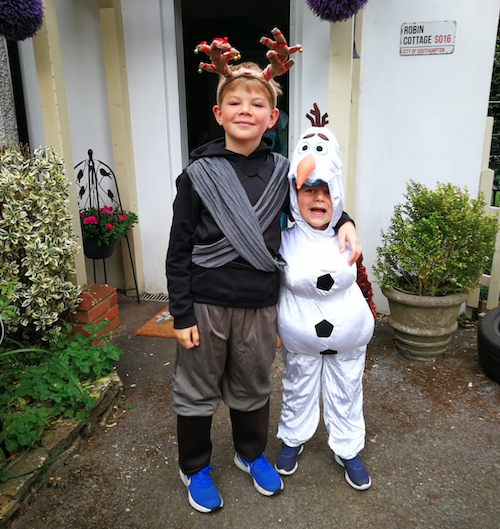 "We're so thankful to friends and family for all their support and we're delighted to have raised more than £900 for the hospices.
"Zoe's mum and dad were truly touched when they heard about the Frozen 5k and are excited about potentially making it an annual event. They came along to watch us do the run, and Zoe's mum, Emilie, took photos. She said she really felt she was there for her daughter that day.
"The mission and purpose of Naomi House is truly important; to be there for people at the most difficult and tragic times, offering kindness and comfort. One can only admire the work that is done by Naomi House in never looking away; caring for children and helping the parents who are living through their worst fears. This must be both incredibly emotional and rewarding at the same time.
"Zoe loved the world of Disney as it is magical and we all wish we could have brought some magic into her life when she really needed it. But, magic in the real world is caring for others even in the hardest moments. Thank you to Naomi House for being there for Zoe and her parents in their hardest of times."
To sponsor Maria, Jo, Fabi and Romi's Frozen 5k run, visit: https://gf.me/u/x547c8.