The E5 Group has raised £3,000 with an industry sticker swap!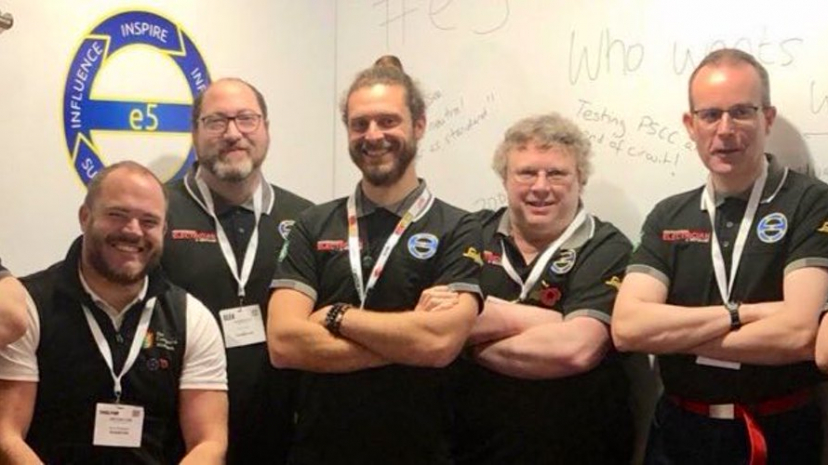 Industry organisation, The E5 Group, has raised awareness and vital funds for Naomi House & Jacksplace with a sticker swap!
The E5 Group is a group of like minded electricians and electrical engineers who strive to raise industry standards by raising the profile of the trade via social media. The name is derived from one of the Engineering Council's ethical principles, to highlight that the group promotes the E5 ethos. Not only do the group promote best practice in their industry, they also use their connections to raise awareness of local charities.
Workers in the trade industry have been doing sticker swaps in a bid to promote each other's businesses and have a bit of fun. Sticker swaps involve swapping stickers with your company logo/details on, so they can be seen all over the industry. With The E5 Group being such a highly regarded organisation, a lot of tradesmen wanted an E5 Group sticker. So, Founding Member, Paul Meenan, decided to use the sticker swap for good, and offer to share stickers with industry workers in return for a donation to Naomi House & Jacksplace.
What started off as an idea to raise a little bit of awareness and money for Naomi House turned into a big initiative, with Paul receiving hundreds of requests for the stickers in return for donations. The E5 Group's original target of £500 was quickly exceeded, with the group now having raised a whopping £3,000 for the hospices from the sticker swap.
Paul said:
"I saw on social media that everyone was doing sticker swaps and I thought if everyone gave away 50p for each sticker they received, then a lot of passive money could be raised for worthwhile charities. This made me remember a conversation I had with Lee Ward when I first met him about his daughter and the work Naomi House & Jacksplace does for his family. I decided that at the first opportunity, we would fundraise for Naomi House & Jacksplace, as a measure of respect for Lee and what he does for the electrical industry. Lee is a man of such integrity and decency, so it was a no-brainer.
"It was rather fast how quickly the sticker swap took off, and overwhelming to see the amount folks donated. In the end, we sent out at least 600 stickers in total, to industry people from Devon through to Scotland, and even some in Spain! To those that donated for one of The E5 Group's stickers - a million thanks yous."
Paul is good friends with Lee Ward, an Engineering Technician Electrician who is also a member of the E5 Group. Lee's daughter, Amelia, regularly visits Naomi House & Jacksplace for respite care. Amelia has a neurological disorder, caused by a genetic mutation of the HCN1 gene. As a result, she has epilepsy, severe learning disabilities, movement disorder, sensory processing issues and she is non-verbal. Because of her complex needs, she needs 24-hour care.
Lee said:
"Sticker swaps are a bit of feel good fun for our industry. To use this hobby as a fundraising initiative was an excellent idea of Paul's. Not only has the swap raised vital funds for Naomi House & Jacksplace, it has also raised the profile of the hospices, with an audience that the charity may not otherwise reach on a day to day basis.
"Naomi House is our one constant support - they are always there for us and have been since Amelia was 2 years old, which brings me peace of mind and confidence, that we've got that when we need it.
"Naomi House means a lot to Amelia and I, so this was a chance for me to give something back. I'm not good with heights and I won't jump out of a plane, so I decided to sell stickers instead!"
We'd like to say a huge thank you to The E5 Group, Paul Meenan and Lee Ward for hosting this extraordinary fundraising initiative for Naomi House & Jacksplace. We're so incredibly grateful for your support.
To find out more about Amelia and her respite care at Naomi House & Jacksplace, read Amelia's family story here: www.naomihouse.org.uk/family-stories/amelias-story