Christmas Day with the Chungh family
"When you say Christmas we think of Naomi House. Every day in December is Christmas at Naomi House."
Tarun has been visiting Naomi House for a few years now, along with his mum, Tracey, dad, Joe, brother, Tian, and sister, Tia. One year, the family stayed at the hospices on Christmas Day. Tracey shared with us what this experience meant to their family:
"Naomi House are like a family to us. When we go there, we're surrounded by people that understand us and are in a similar situation to us. We feel "normal" when we're with our Naomi House family.
"In 2017, we stayed at Naomi House for Christmas Day. I felt privileged to be there. We didn't have to worry about care or anything else other than spending it as a family all together. It was lovely to be with my husband and watch our children open their presents together – that was particularly special.
"Tarun's favourite thing was seeing Santa – all of the kids loved it. Christmas dinner was top notch – it was like dining at a five star restaurant! After dinner, all of the families sang Christmas carols together and played games – we were in fits of giggles. Families joined in with other families and siblings played with other siblings – it was fantastic.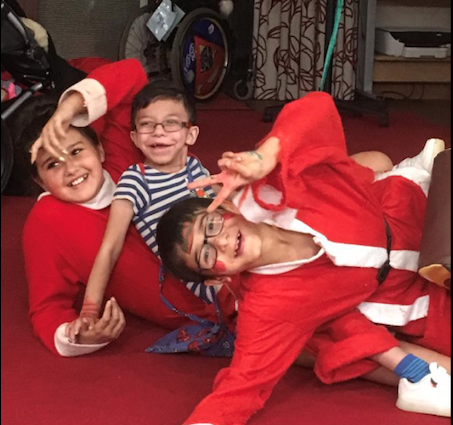 "A special part of the day for me was at the end of the day. A mum that was visiting the hospices for end of life care for her child came up to me, gave me a big hug, and thanked me for bringing their family joy at an otherwise unbearable time. It was really heart-warming. It just confirmed that everyone at Naomi House, including the staff, children, young adults, mums and dads, are all one big family."