Cerys's fun run raises £330!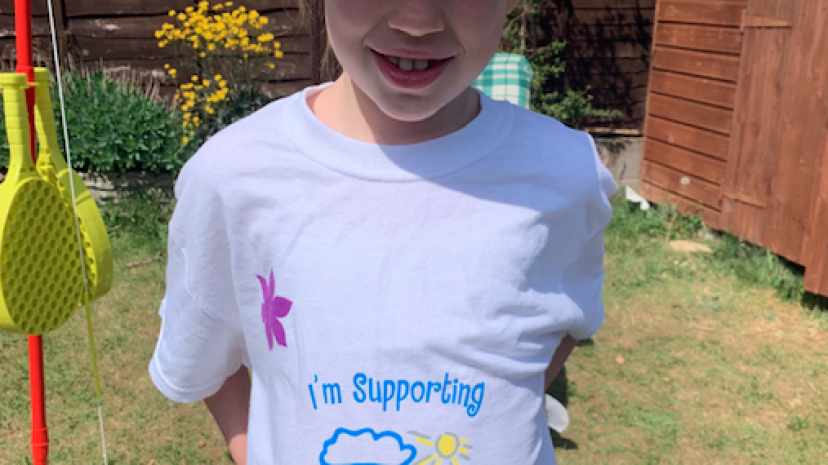 7½ year old schoolgirl, Cerys Stephen from Chandlers Ford, completed a 1 mile fun run for Naomi House & Jacksplace on Sunday!
Cerys's dad Damien said: "Unfortunately, because of the Coronavirus, the ABP Southampton Marathon runs have been postponed, so we planned on doing a 'solo' run on the same day when Cerys would still run the distance she was going to, but it wouldn't be part of an organised event."
Proudly wearing her Naomi House & Jacksplace t-shirt and with bags of enthusiasm, Cerys ran three times around the block where she lives; two easier laps and one more difficult, with the route taking her into her local copse. Cerys was obviously enjoying her challenge, running with lots of energy and even the odd jump along the route! With her dad on camera, they were able to film the run and stream it onto Facebook Live resulting in Cerys excitedly giving shout outs to friends and family along the way.
With a stop each lap for a drink, she finished the 1 mile fun run in great spirits and said:
"Thank you everybody for supporting me and helping me get to this wonderful target to help Naomi House."
Cerys' original fundraising target was £150, which she has more than doubled, with the current total standing at £330! There's still time to sponsor Cerys – show her your support and donate on her Facebook Fundraiser here: www.facebook.com/donate/194119991656162/
And to watch her live run back visit: www.facebook.com/damien.stephen.84/videos/10156891549776384/
What an inspirational young lady – thank you so much Cerys and dad, Damien, for your brilliant support!