Bournemouth country singer runs 100 miles in May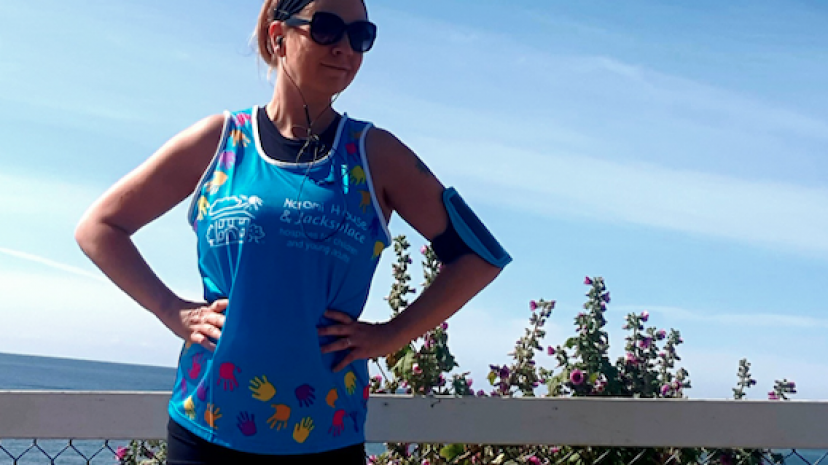 Country singer-songwriter, Helena Mace, has taken on the challenge of running 100 miles during the month of May, to raise vital funds for Naomi House & Jacksplace, despite having a brain tumour.

Helena is an award winning professional solo country singer and multi genre covers vocalist from Bournemouth, who writes and performs her own music. She has been a supporter of our hospices for many years, performing at local fundraising events. In April, she hosted a phenomenal gig with her husband and swing singer, Grant James, live from their home for Naomi and Jack's Sessions, a series of live virtual charity gigs by local musicians.
Helena was diagnosed with a benign brain tumour, known as an acoustic neuroma, in January 2019, with symptoms such as hearing issues, dizziness, tinnitus, lethargy and occasional sickness. She is being treated by the NHS and is hoping that they can save her hearing, the loss of which would have a devastating effect on her career as a professional singer.
When asked why she wanted to do a fundraiser for Naomi House & Jacksplace, Helena said:
"I thought, why not combine a fundraiser with keeping fit? I wanted to do something physical to help me with my tumour, as exercise can help, even though it can be challenging at times. Naomi House & Jacksplace is an amazing charity and when I visited the hospices, I was overwhelmed by the kindness of the staff, the beauty of the hospices and the happiness of the children. I want to use my singing talent and overall fitness to help as much as I can, especially in lockdown, when fundraising is particularly tough for the charity."
Running alone, Helena will be tracking her progress and posting each day on social media. She is determined to keep going until the end of May, even if she passes her 100 mile target, and has already fundraised a total of £165 for Naomi House & Jacksplace. To support Helena in her fundraising and help her smash her target, visit her JustGiving fundraising page: www.justgiving.com/fundraising/helenamace1
To find out more about Helena Mace, visit: www.helenamace.com