Bath Half Victory in memory of Maddie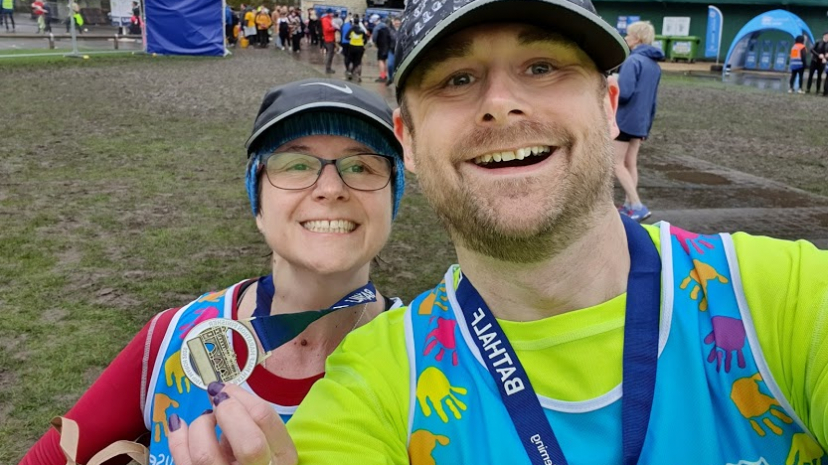 This pair of smiley runners are Michelle and David Knill, after they had just completed the Bath Half Marathon and raised over £1,200 for Naomi House & Jacksplace. The couple had a very special motivation for running 13 miles in the pouring rain... they did it in memory of daughter, Maddie.

We asked David to tell us a little bit more about Maddie, and the couple's journey to Bath Half Victory. David said:
"My wife, Michelle, and I have been running for about 3-4 years. We took it up for the exercise, plus it allows us to eat and drink more! We're not fast, but we enjoy it.
"At the end of 2018, Michelle underwent emergency life-saving surgery which, as you can imagine, stopped her running for many months. So, once she was back on her feet, she was keen to get back to it again.
"When she started again, we got back up to running 6 or 7 miles and someone suggested she run the Bath Half. We weren't keen at first, as doubling our current distance seemed a long way off, however Michelle decided to go for it and I said I'd do it with her! Once our places were confirmed we decided that it would be good to raise some money and Naomi House was the obvious choice.
David continued to tell us more about their motivation for choosing Naomi House & Jacksplace...

"Michelle's daughter, Maddie Ash, was born in 1997 with a brain tumour and, against all odds, survived the surgery, although, as you can imagine, it left her very disabled. At some point back in the early 2000's, one of Maddie's care network suggested we get in touch with Naomi House for some respite care.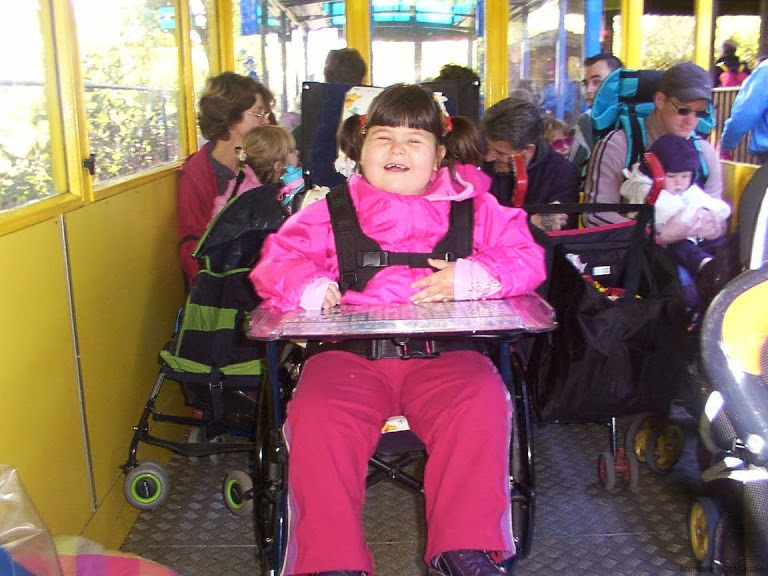 "Even from our first visit to have a look around, Maddie loved it there. No doubt many parents have said how they find it hard to leave their children with strangers, but that didn't last long with the staff at Naomi House, because their professionalism and love for the kids shines through and you know they are in very safe hands."

"Maddie spent many years visiting Naomi House, with us (Michelle, myself and Abigail, Maddie's elder sister), and never wanted to go home at the end of the visits. In fact, one day, she decided to change her name and the sign on her door so we wouldn't find her!
"In 2008, Maddie suffered a number of serious medical issues, which increased her disabilities, but she was determined to keep going and made a good recovery. Naomi House provided us with some very welcome extra days of respite when Maddie came out of hospital.
"In 2012, things went downhill rapidly, with Maddie spending several months in intensive care. Unfortunately this time, she was not able to recover. The intensive care doctors went out of their way to work with Naomi House and were able to get her from Bristol down to there for her final hours.
"Maddie said she never wanted to leave and, this time, she got her wish."

It's really hard to put in to words the impact and value of the support we received, not only at that time, but in the years before. The support we had with the funeral arrangements and having someone to talk with took a huge weight off our shoulders and gave us the space to grieve. None of us have had to arrange a funeral before, so having people who knew what to do and guide us along made the whole process so much easier.
"Not having to immediately go back to a home, which was full of Maddie's things and medical equipment, but not Maddie, was also a blessing. In fact, everyone at that time showed us nothing but kindness, including the local funeral director who provided his services for free."


We want to thank David and Michelle for sharing their incredibly moving story, and for completing the Bath Half Marathon for Naomi House & Jacksplace.
Naomi House & Jacksplace has had to temporarily suspend its respite care, but is still able to care for children and young adults at the end of their short lives. Please, if you can, donate what you can, to ensure we can be there for families now and into the future on good days, difficult days and last days. Thank you.