Ryanair Pay for a Day
Ryanair have become the first organisation to 'Pay for a Day' in a new fundraising scheme.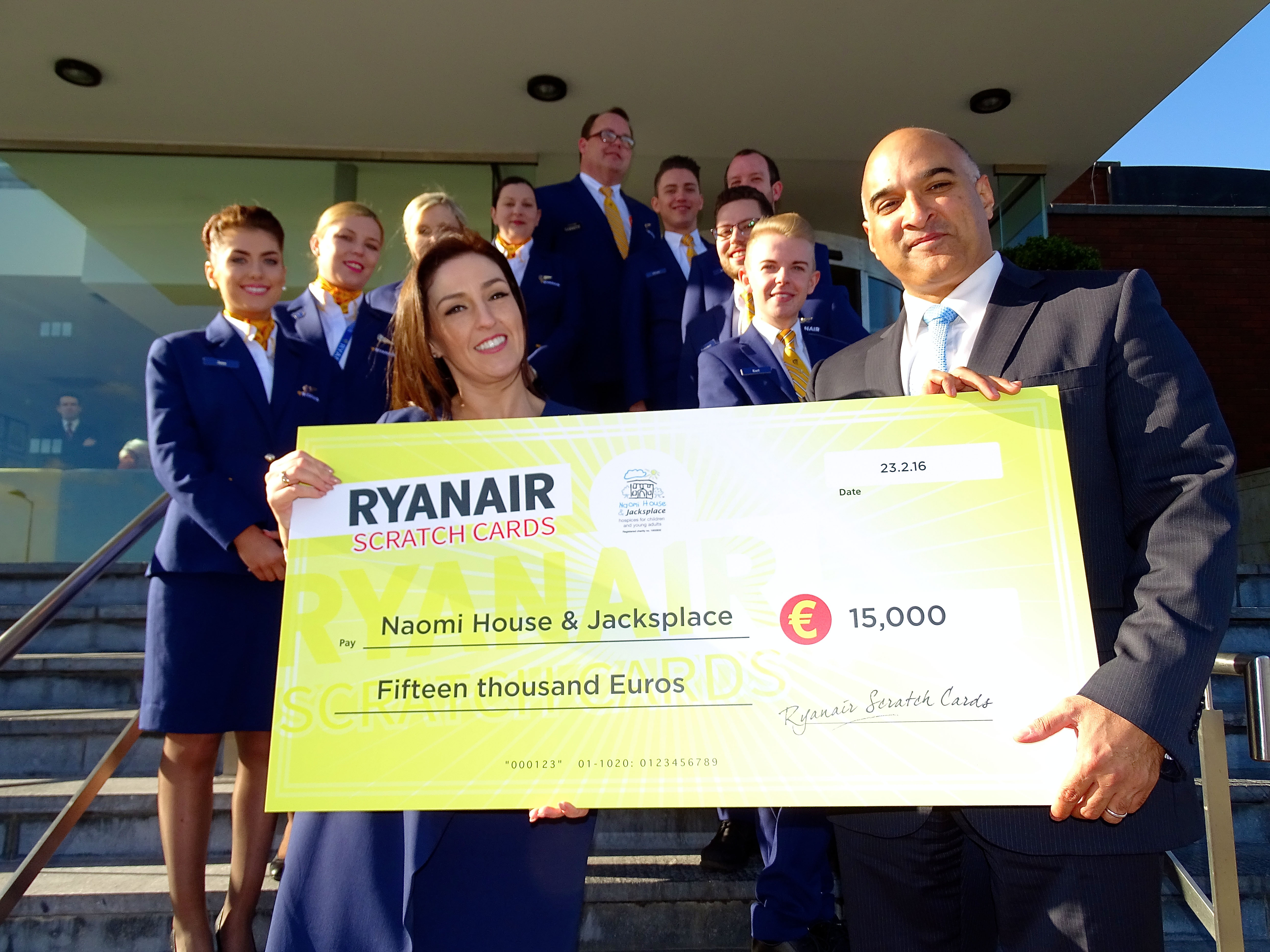 A day at Naomi House & Jacksplace might include respite, emergency, end of life and post bereavement care for the region's life-limited and life-threatened children and their families.
Ryanair have chosen to cover all the costs of care at the hospice on 8th July for a period of two years.
8th July is a date that is significant to the airline as it marks the anniversary of the day the firm first commenced operations, way back in 1985.
The days that Ryanair have chosen to fund may give a family the chance to spend quality time together without worrying about their child's medical needs. They may give a child the opportunity to make a treasured keepsake with Naomi House's fun-loving play team. It may be a child's last day; a day when families need a calm and supportive place in which to say goodbye to their loved one.
Ryanair is a regular supporter of Naomi House & Jacksplace and has made significant donations to our hospices following the sale of on-board 'Scratch to Win' cards.
A day of care at Naomi House is a very special thing indeed
Says Naomi House & Jacksplace Head of Fundraising, Paul Morgan.
In the space of 24 hours we can create magical memories that families will treasure for a lifetime, and provide the flexible and high quality care that children and their families need, whether that be a good day, a difficult day or a child's last day. Over the course of two days we can do even more. That is why we are incredibly grateful to the team at Ryanair for kicking off our Pay for a Day scheme in such generous fashion, and to the many thousands of people that purchase Ryanair's 'Scratch to Win' cards when travelling across Europe.
A spokesperson for Ryanair said:
We are delighted to once again support Naomi House & Jacksplace hospices, and we are especially pleased that with the help of our passengers across Europe we have been able to fund two full days of care for life-limited and life-threatened children and young people from across southern England. Our crews are passionate about Ryanair's chosen charities and know this most recent donation will have a transformational impact on families who need the support of their local hospice.
The average cost of a day of care at Naomi House is £5,800. This includes the cost of nurses, carers, family support specialists, counselling sessions, play activities, memory making, medical equipment, technology, and overheads.
Find out how you can support our 'Pay for a Day' scheme >>