Life President surprises young adult from Jacksplace with Wimbledon experience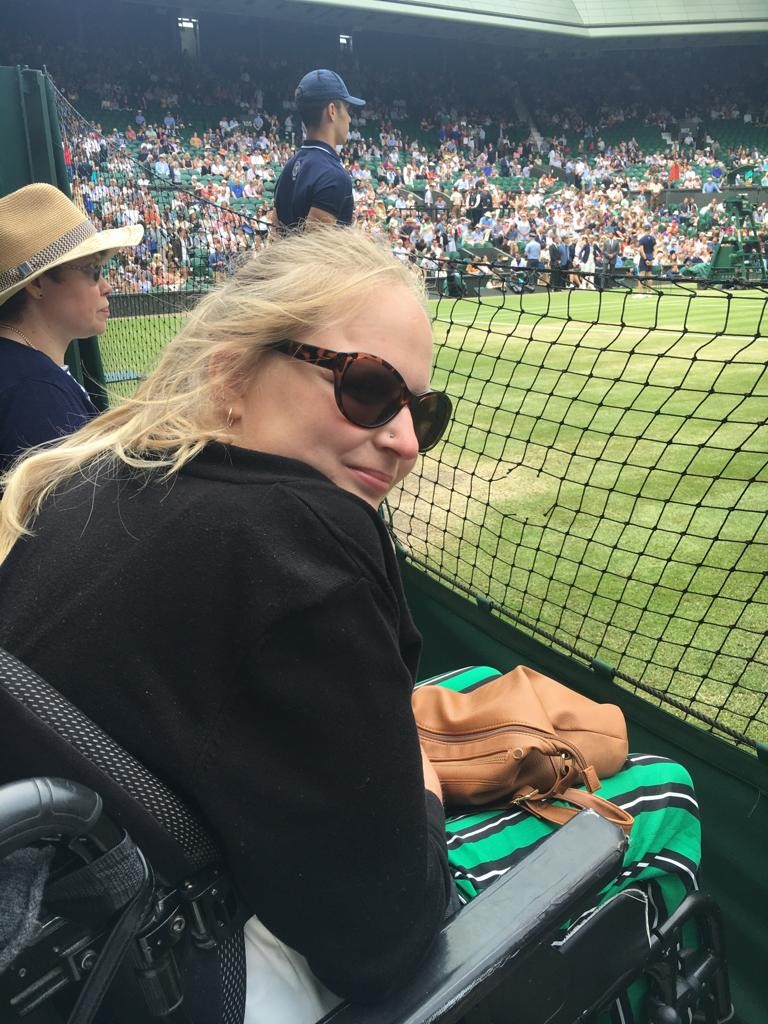 Life President of Naomi House & Jacksplace, Khalid Aziz, recently surprised Abi Stone, a young adult from Jacksplace, with highly sought after centre court tickets to the Wimbledon championships.

Abi regularly comes to Jacksplace for respite care. She is an ambassador of the young adult's hospice and regularly gives speeches at charity events, sharing her experience. Khalid met Abi at a Naomi House & Jacksplace event last year, where she briefly mentioned in passing that she'd never been to Wimbledon, which is when the life president took it on himself to make this particular dream come true.
Abi was asked to come into the hospices one day, not knowing who she was meeting or what to expect. She was met by Khalid, Chief Executive, Mark Smith and Director of Fundraising, Paul Morgan, who presented her with centre court tickets to the Wimbledon championships, with front row seats.
Khalid Aziz said:
"Abi is a fantastic ambassador for Naomi House & Jacksplace, and when she told me at the ball that she'd never been to Wimbledon, I knew I had to do something to help. I got in touch with my friend Andrew Ambrose, General Manager at the All England Lawn Tennis Club (AELTC), where the Wimbledon championships are held, who managed to organise the best seats in the house for Abi. I was so excited to give them to her as a small token of recognition for the fantastic work she does as a Jacksplace ambassador."

Abi is part of a group of ambassadors for Jacksplace called JacksVoice. JacksVoice is the voice of Jacksplace, made up of young adults that regularly stay at the young adult's hospice. The group has around eight members, who regularly attend events and deliver informative speeches about their lives and experience of Jacksplace. They also mentor peers who may be struggling with the transition from Naomi House to Jacksplace, as well as communicate with wider organisations to tackle challenges young adults living with disabilities face in day-to-day life.
Jacksplace is the only hospice for young adults in the region, offering care and support specifically for young adults aged 16 and over. It is a space where young adults can get the independence they often crave, with time away from home, shared with other young people of a similar age and possibly similar life experiences.
To find out more about Jacksplace, visit:
www.naomihouse.org.uk/about-us/jacksplace.