Evie's Story
"Knowing that we've always got that buffer and a bit of chill time really helps, it's our salvation. There is always help for the whole family."
Evie's Dad, Simon
Evie lives with her dad Simon, mum Caroline and 12 year old sister Isobel. She has a progressive neurological disorder known as Labrune Syndrome (leukoencephalopathy). Due to the complexity of her condition, it has taken a long time for the doctors to be able to give a diagnosis and only recently has it been established that Evie's condition is caused by a faulty gene. Evie is unable to walk and talk and is fed by tube into her stomach.
Simon told us:
"It is good to have a diagnosis but it actually doesn't change anything, we as parents deal with what comes our way. Evie's condition presents similarly to cerebral palsy but it is progressive and her symptoms will probably deteriorate.
"When she started school, she could walk, talk and she could feed herself. She had splints on her limbs to support her feet, ankles and wrists. As time has gone on we've had to stop using the splints because we couldn't physically get her feet in them and now she is unable to walk. She used to feed herself with finger foods like pasta but she has lost the ability to do that. She lost the manual dexterity to be able to pick the food up and get it in her mouth. In addition she had no concept of how much she should put in her mouth and she could choke.
"Sometimes when things change I wonder if she is just having a bad day or is the next step in her deterioration. She can do very little for herself and her verbal communication is virtually non-existent. This time last year she could talk and chatter away but now we get maybe one word a day if we are lucky but on a positive note Evie is an extremely sociable, friendly girl who love life."

"Evie absolutely loves Naomi House. When we left her for the first time we thought, what have we done? Then you realise she is in a place where there are people who are even better placed to look after her than us! She has so much fun there.
We say we're going to Naomi House to see her friends and there are big smiles on her face. We say we're taking swimming stuff and there would be another beaming smile on her face.
There are lots of accessible things to do and she's got constant one to one attention, which she loves. We know that Evie is going to be looked after well, if we didn't think that, we wouldn't let her go. I love going to pick her up because there is a big smile on her face and you know she has had a good time.
"Evie is full of beans and everything is a laugh. She has such a positive attitude, she doesn't moan, she is a little trooper. She has a good understanding of most things going on around her. She doesn't think she's different from the other children, which is lovely. As long as she is involved with the other people and doesn't get left on her own, then she is ok.
"As things deteriorate, you think what is going to be next? We can see the effect it has on people who haven't seen her for a while and it makes us realise that yes, she is getting worse, quickly. We try and shut off that side of things and think, right let's deal with what we've got -otherwise we wouldn't get through the day. You try not to think long term about how it is going to pan out.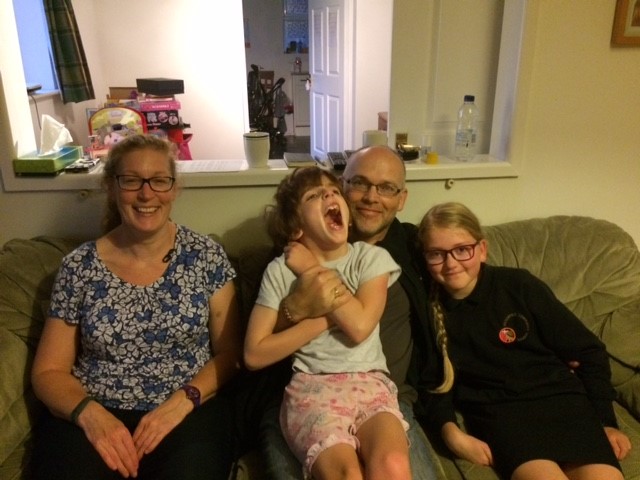 "When Evie is staying at Naomi House it just gives us a welcome rest where we can do things with Isobel and be like a 'normal' family for a bit. We know she is in a place where she will be looked after by professionals who are there for your children 24/7 and don't have to go off to do the cooking, don't have to worry about what's in for tea, don't have to worry about another sibling. It eases things for a few days and we can even make a few plans to go out as a couple. It gives us a chance to wind down and 'breathe' for a bit'. Sometimes we just need a break for a couple of days just to re-charge the batteries.
"We live day by day. We try not to think too much about the future, we deal with Evie's situation on a day-day basis. Without Naomi House and the dedication of the staff we would not get an opportunity to spend some quality time with our other daughter Isobel and do activities which other families take for granted."