My Arctic Adventure
This has been written by Tracey, manager of our Fareham shop.
I have just returned from the most amazing experience of my life - an arctic adventure in Hossa, Finland, whilst raising money for Naomi House & Jacksplace.
My experience started on Saturday 8th March at Heathrow airport where I was met by our hosts from Discover Adventure, along with 15 other trekkers who I hadn't met before. We were all very excited about the challenge we were about to take on.
We arrived in Helsinki and took a transfer flight to Kussamo, where beautiful scenery and lots of lovely thick white snow greeted us. As a child I loved seeing fresh snow on the ground and you would often find me taking myself off for walks and frolicking in the snow. This is one of the reasons I took this challenge on, as we don't often see it here in England.
Our coach took us to an idyllic setting in woodlands covered in thick snow and surrounded by frozen lakes. Our Finnish host, Marcus, who would be guiding us throughout the whole trip, met us with warmth and compassion and then settled us into our cabins. I shared the cabin with three other girls and we got to know each other before a short walk to the restaurant, where we all sat down together for dinner.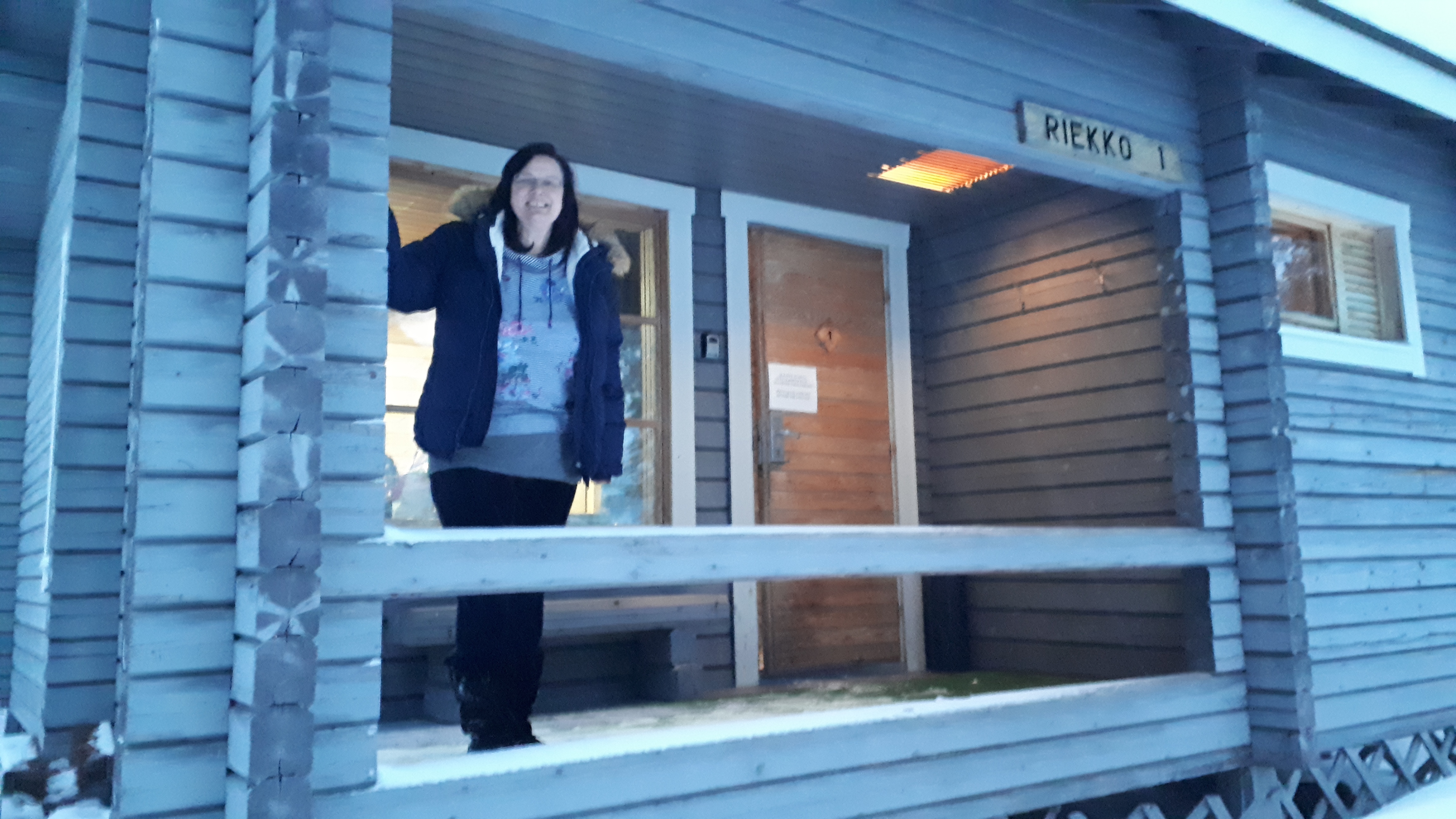 Next morning after breakfast Marcus gave us a little insight into the day ahead and what to expect on the first day of the trek. We got kitted out in our snow shoes, given our poles, and were ready to undergo the walk. The trek would take a minimum of six hours, with a short break for lunch, which would be eaten around a campfire. Everyone, although a little nervous, was keen to get moving as it was cold, but we soon warmed up when we got underway.
Our walk took us over frozen lakes, through pine forests and many hills! The person at the front had to clear the track by foot for the trekkers behind. We stopped every so often so that Marcus could give us an insight into the type of trees and animals that lived in the woods, together with general survival tips. We kept going until we arrived at our wilderness cabin.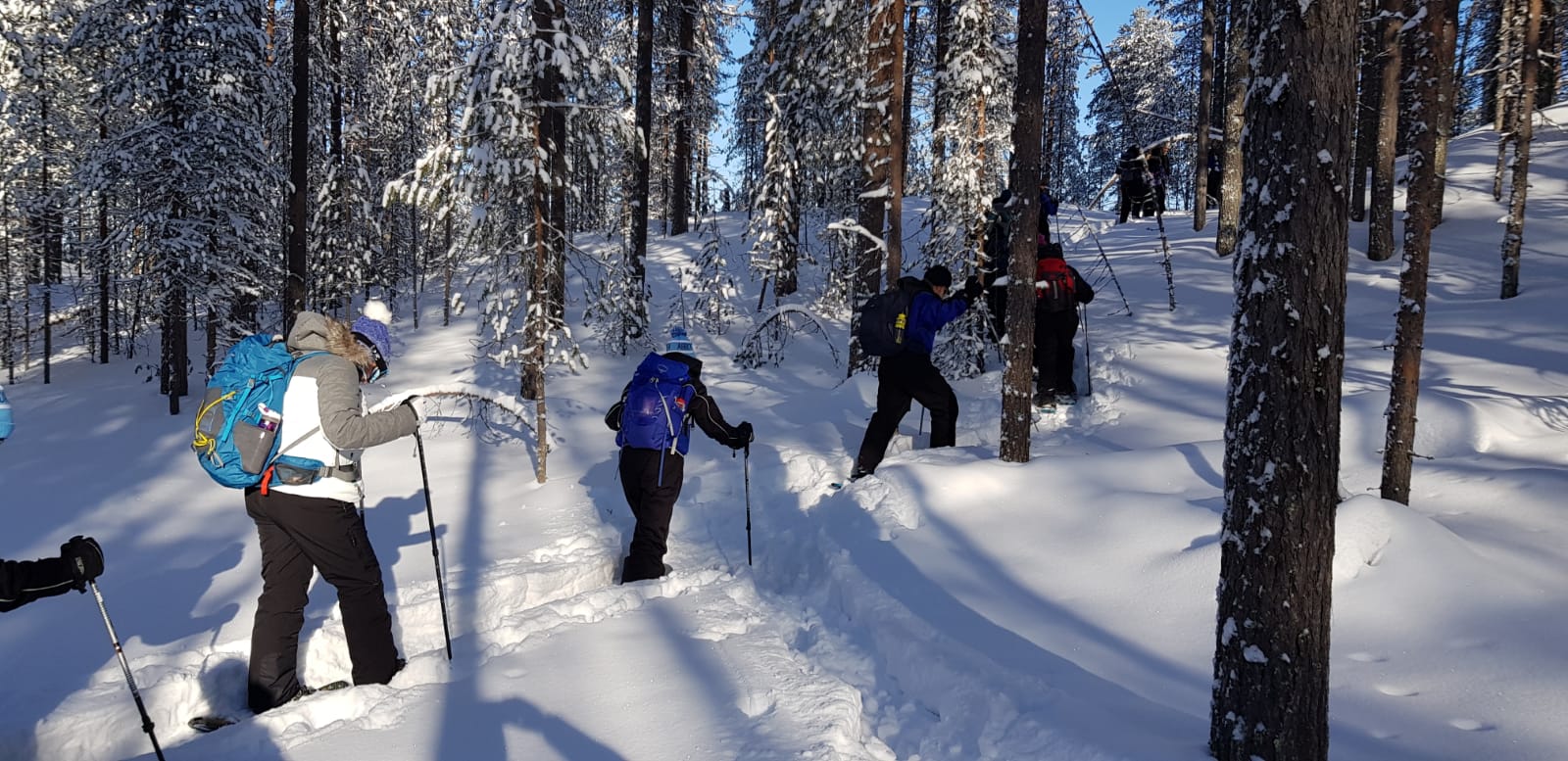 As there is no running water in the cabin some of the team were sent out to get fresh water from the water pump, whilst others made up the fires to warm the cabin. We all helped each other out by making the beds and organising dinner, so that we could relax for the night by candlelight as there is also no electricity.
After a comfortable night, we woke to an additional inch of snow. It was still snowing and a little bit windy, which added to the experience but we knew it would be tough going back. We got ourselves ready to take our route back to base and around six hours of walking again. This time, however, we mostly walked over the lakes.
Along the way we stopped off for lunch where Marcus explained to us how to make a fire in the wilderness and a how to keep it going. We warmed up tea and coffee over the fire and then cooked sausages in the heat of it too.
When we arrived back to basecamp, we all congratulated ourselves on our achievement, having made it through the two days of trekking. Our final day was the highlight of the trip. We did half a day cross country skiing, although I must say I'm not a natural at it, I spent more time on my rear end than stood up! Then the other half of the day was husky dog sledding. The dogs are something special and are keen to get their exercise in for the day. As we sat waiting to get underway, they were very excited and howled and barked until off we set, when suddenly it went quiet. At speed we weaved through the snow ensuring we didn't lose control of the sledge. We kept going for 10 kilometres until we arrived back to our start point.
The night was finished off with drinks in the tepee hut to celebrate our success and share our stories over a large open fire.
The next morning was fresh and very cold, I believe it was minus 30 which meant as I was walking down to breakfast, my hair froze and turned white on the ends. Something you don't see too often!
After breakfast we said our goodbyes and thanked Marcus for making our trip so special, and then made our way back to the airport for our flight home.
I would definitely recommend this trip to Finland, it has given me special memories and I have made some good friends in that time too. I can't wait now until my next adventure!
If, after reading Tracey's amazing story of her arctic adventure, you're up for a different type of challenge, check out the Mount Kilimanjaro Challenge, Everest Base Camp Trek or the Arctic Adventure event pages for more information and dates.