Ella's Story
Daily life for one Dorset mother would be an impossible challenge if not for the care and support of her local children's hospice, Naomi House.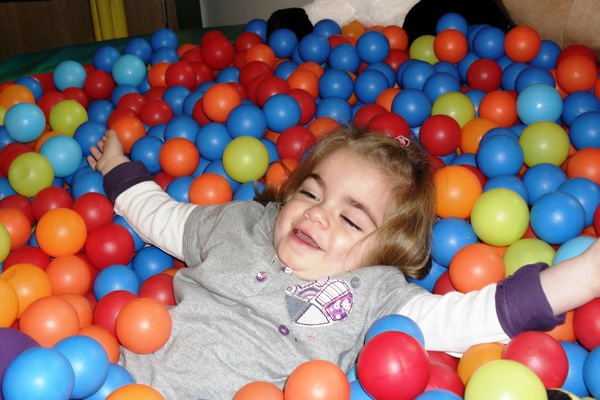 Sally Amos lives in the village of Child Okeford, near Blandford, with her daughter, Ella.
Ella has a rare illness that means she is unlikely to survive into adulthood. Sanfilippo B syndrome (mucopolysaccharidosis IIIB, MPS IIIB) is caused by a deficiency in an enzyme involved in breaking down waste. The condition leads to degeneration of the central nervous system with progressive dementia, often combined with hyperactivity and aggressive behaviour.
Doctors and specialists are unable to say with any certainty how long Ella might expect to live for. Their best guess is that she would survive into her early to mid teens but nobody can offer any guarantees and the condition could worsen at any time without warning. There is no cure available, nor are there any medicines available to manage the symptoms. As it is such a rare condition, (affecting around 1 in 84,000 children) there has not been the same level of research conducted into Sanfilippo B as there has with more common illnesses.
Ella is orally fed at the moment but eventually this will become impossible and she will be fitted with a gastrostomy tube, allowing food to be fed directly into her stomach.
Ella's mum, Sally, said:
"I love Ella so very much - she's my world but there's no denying that life can be difficult. She's so hyperactive, a symptom of the condition, and as a single mother that can be utterly exhausting. She's full of energy all the time and I never get a chance to rest.
I haven't got anybody who can take her off my hands for a couple of hours and that's why Naomi House is so important – I don't know what I would do without them.
Sally found out about Ella's condition after medical tests were conducted to investigate Ella's hearing difficulties. After a series of tests, including an MRI and deep urine tests, Sally was given the crushing news that Ella had Sanfilipo B. It was shortly afterwards that Ella was referred to Naomi House aged two and a half.
"Ella's condition makes it difficult for her to adjust to change and it took her a while to get used to Naomi House. But the carers and nurses are so good with her that now, when I drop her off, she goes running through the door brimming with excitement because she knows she's going to have loads of fun. I never forget about Ella when I leave her at the hospice but knowing she is in safe hands and having lots of fun means I can put her to the back of my mind and make the most of the chance for some rest. It means so much to me to see her interacting with other children at the hospice and she loves nothing more than pushing her friends around in their wheelchairs."
"The scariest thing for me is that Ella's health could suddenly start to deteriorate. But I take comfort from knowing that Naomi House will be there to support me for as long as I need. Accepting that you need the help of a hospice is a big step but I haven't looked back.
It's not until you go there that you realise what Naomi House is all about and see the huge number of children, young people and families that they help. It is an unbelievably wonderful and moving place and that first visit is a memory that will stay with me forever.
"For me, the respite is absolutely invaluable. It is hard for people to comprehend the importance of a good night's sleep. Ella might sleep for just 30 minutes then wake up again. The only opportunity I get to sleep right through the night is when Ella is being cared for at Naomi House - I just couldn't cope without it."
Naomi House and Jacksplace are the only hospices offering a 24/7, 365 days a year service for children, young people and families living in Dorset.
The current cost of providing care to families in Dorset is approximately £270,000 and the charity is reliant on local individuals, clubs, groups and businesses to help meet this cost.